Autumn
October 8, 2014
That smell!
My feet race to the front windows that open to the front yard, and i can smell the fall air, the mixture of dead grass, burning wood, and falling golden leaves.
Mmm...... I just want that smell stuck into a jar, for me to keep.
Though their was more, the sun beaming out on the dying trees and the grass turning from green to a yellow white. The leaves let go from their summer home and float down in peace.
Inside as well, my mother's scarecrow's would be in every corner along with her teddy bears in auburn, brown, and orange  colors.
The kitchen would fill up with the fragrence of chili powder and pumpkin candles, pumpkin and candy corn would sit in a sculpted bowl. 
No more using the AC or summer clothes, switching to warmer blankets and jeans and sweaters.
The streets will hold a shadow and the glow from the sunset. Starting with longer nights and shorter days, and a full moon hanging in the sky every night. 
My friends fall is here :)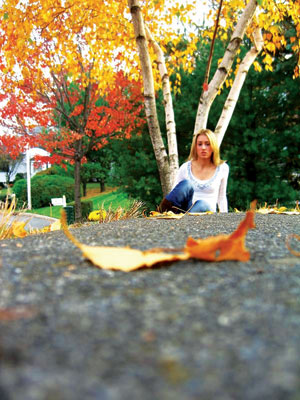 © Stephanie F., Garnerville, NY