"Bark"
August 14, 2011
"One more year," the little Devil 'Pup told herself. "One more year and I'll figure out where I belong." Her bark was as strong as her bite, and she was strong, tough, and tenacious. One year later, however, her voice was faltering. In a feeble whimper she tried to tell herself: "One more year, and I'll be in a new place. Maybe I can find myself again." Within one year, however, she lost her voice altogether. What was once a strong, mighty and tenacious bark became barely a whimper. She tried to encourage herself: "One more year, and I'll be out of this pound…" but the strength was gone. So was the tenacity. The reason was bullying, a bullying she could hardly put cohesive words to. Bullying had always been a blank she couldn't quite fill; it was the collaborative guilt of loss and self-loathing, of unrequited love and its consequences, of the emotional toll it took try and build yourself up into who were and be knocked back down. Bullying had become hell for the little Devil 'Pup, a hell her classmates tossed her into, slamming the door and throwing away the key. Bullying is what broke the little Devil 'Pup, and those like her who are meant to be no more than statistics in life.



Statistically, those individuals are the 160,000 students nationwide who stay home from school everyday due to the fear of bullying (Burns). They, like the little Devil 'Pup, can't continually muster the strength to get up every day and shuffle through the hell. Almost like in A Farewell to Arms where the world will break and break and break and ultimately kill those who do not break…some break and ultimately lose their lives because of bullying. All bullying is, really, is breaking people. In a twisted, sick "cycle" the breaking process ultimately turns two-thirds of the once-bullied into bullies themselves (Burns). Those bullied-bullies turn their victims into bullies themselves, and so on, and the cycle never really ends because no one cares to break it (Kingsbury). The one way for the cycle to end is for a bullied victim--like the little Devil 'Pup--to break away and try to live past the bullying. Sardonically, it is easier to just become a bully yourself; once bullied, you typically lose all of your friends, you dignity, self-respect and general feeling of self-worth…and even when you aren't being bullied, you bully yourself, because you see all of the loss as your fault. Just like the Little Devil 'Pup: she was emotionally beaten until all of her friends left her—both from shame and for fear they'd be targeted next—and when the 'Pup finally found the strength to break free from the bullying, she was all alone. She had no one, not even self-confidence or self-worth to hold her together. She somehow remained determined that despite the collaborative guilt that she had done it to herself and the loss of everything, within a year she would be able to find herself again, though, and be able to live without the bullying once more.



But it didn't happen like that. There was to Fairytale, no Fairy Godmother, no magic wand wove to braid all the loose ends together. The little Devil 'Pup was left alone in a crowd of teenage girls—bullies more vicious than the stereotypical jock (Kingsbury). These bullies were a different breed, one that never started as the bullied; they were just bullies who felt like making those derisory to themselves miserable. While males lean towards physical violence when bullying, girls typically utilize the art of emotional bullying; an art that has, in the last decade, been found to be twice as affective as physical bullying (Kingsbury). Girl bullies are not new, though, nor are the tactics they wield (Davis). Like typical bullied victims, girl bullies aim for girls who are on the fringe of society—typically friendless, have strange hobbies, don't dress in current fashions and have been bullied before—and make them miserable simply because they can. Alone with no real friends anymore, the little Devil 'Pup was an easy target for girl bullies; and she never truly recovered from that. The long term effects of girl bullies made the little Devil 'Pup trust nor befriend any girl, turning instead to boys for companionship; and from there, puppy love emerged (Kingsbury). Despite having immense trust issues, hesitance to be close to anyone and a desire to blend in like a chameleon, the little Devil 'Pup let herself fall in love…and that opened up a new realm of bullying. Traditional bullies physically hitting you and making you believe it's your fault and you deserve it is enough. Girl bullies making you feel miserable just for being who you are is even worse. But loving an individual and caring for them so entirely, and having them bully you both physically and emotionally; that is the limit. Fortunately, the 'Pup escaped only scathed emotionally, but some victims were not nearly as lucky. Millions of women and men are annually victimized of domestic violence; many suffer for years before receiving help, and many more lose their lives to it. As a dark, spin-off path from the cycle, bullies can evolve into relationship-and-spousal abusers. No domestic violence victim suffers the same abuse as another does, but like all forms of bullying itself: all of the pain hurts just as bad. For the Little Devil 'Pup, the pain was in the simple knowledge that--were she to express or show her love--she would be yelled at, screamed at, verbally bashed and abused until she sputtered apologies and stopped. Her taste of puppy love was as bitter sweet as a domestic violence case: she loved her mutt with all her heart, but he did nothing but hurt her because of it. Her unrequited love had painful consequences, ones that broke her down to where she could barely release a whimper.



And then--reduced to where she barely had a voice at all--the little Devil 'Pup didn't know what to do. She had already ran until her paws ached, a whole three states north of where the vicious bullies of girl and classic breed had tormented her for so long. She'd escaped to a snow-covered placed that promised as fresh and clean a start as the color of the atmospheric discharge. She got away, only to suffer through a love as emotionally abusive as domestic violence. Continually she resisted following the path of bullying herself; she instead looked to see the truth behind her bullies. The kids who tormented her in sixth and seventh grade? They were little kids trying to figure out who they were in a new school, among bigger kids and even once bullied themselves, letting off pent-up anger. The girls who made her so miserable through eighth grade and her transition into high school? They were girls with self-esteem issues trying to give themselves a leg up on the social ladder, and made the little Devil 'Pup their rung. The boy who screamed at her every time she tried to love him? He was a young man on the cusp of adulthood, struggling to become a man and figure himself out; he had been bullied when he was little and didn't have a loving home life. The little Devil 'Pup was an easy target for him, just like she was for the girl bullies and the other kids in middle school. The little Devil 'Pup was always an easy target for all the breaking to be done; she was quiet, a little shy, and terrified of offending anyone. She stuttered apologies to any and everyone for the most remote 'offensive' act she could have done. Slowly, with the support of new friends, the little Devil 'Pup was able to work herself back into her old personality. She rediscovered her bite, her bark, and the personality that stood her apart from everyone else…only to have those very friends that built her back into who she was knock her back down.



So bullying is __________. Go ahead, fill in the blank. Bullying is unique to every individual. Bullying is [insert individual definition here]. It's a term whose definition changes like the weather or the smell of that potion in Harry Potter and the Order of the Phoenix. No one person can say what bullying is for everyone because of this relativity. It can be the pain of loss, of self-loathing; it can be trying to find puppy love in all the wrong places. Bully can be any action that breaks you down from who you are in any way. Bullying is downgrading someone to their most vulnerable form, and then downgrading them further. Bullying is a 60mph rollercoaster with no seat belts. A bruise will heal in a couple weeks, and a broken bone in a couple months; but emotional scars take longer than a lifetime to heal. You can't say "One more year, and I'll be healed and fine and back to normal," because the scars are permanently etched on you. The scars left by bulling leave you changed irrevocably and no short amount of time will fix that; especially is you take yet another side-path to the cycle, and pay the ultimate price for bullying. Then all you are is a scar-ravaged statistic.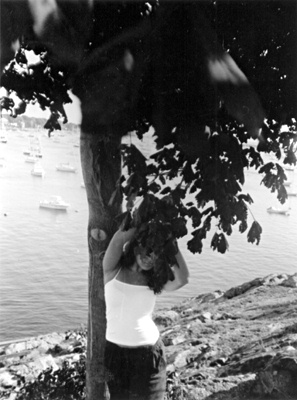 © Lauren M., Marblehead, MA