A Divergent Path
March 28, 2009
I don't understand. Except I kinda do. In the way that you would/wouldn't understand an insane person who jumped off a building because they thought they would be able to fly. As in, you understand the reasoning, but don't understand how they thought of that reasoning. Except maybe you kinda understand that part too. Maybe they had a dream where they could fly, and got it confused with reality.

I'm not calling anyone insane, just trying to convey my level of understanding.

Right, so I'm confused. I don't know who to believe. Except I think I do. (I'm making a whole lot of sense today, aren't I?) I kinda know who to believe, except I want to believe everyone. I've always wanted to believe everyone. Maybe that's why it took so long for this to sink in. People LIE.

And people change. In that gradual/sudden way where you notice it, just a minor detail at first, and then it's just a few small things, and then one day you're sitting there and you think "Holy crap. When did it get like this? How did this happen? What the Hell?" And then you realize "This isn't the same person I first became friends with, and I'm not sure I like them as much. If we met now, I'm not sure we'd be friends at all." But you didn't meet just now, you've been friends for years. This is where you have your choices, where your path divides.

Right- a skinny, winding, difficult to traverse path that closely follow the one your friend is taking but isn't quite there. You can change too. Hide behind your own mask, your own facade. You can change who you are, how you talk, and what you do. You can be a fake, a poser, right up there with the "popular" girls who secretly hate each other. But at least you have your friend.

Left- a path that leads you straight to where your friend is, then loops back to where you started. You can hold on to them. Like a fish that'll humor you and stay every once in a while before swimming back to its new habitat. Grab on to those slippery scales for dear life, as if it really were that important. And maybe you'll succeed, and maybe you'll reel, drag them back in. But maybe they're not happy there anymore, or maybe they'll leave the second you turn your back, gone forever in one bright flash.

Backwards. You can leave. Just say, No. Not anymore. And walk away. Just. Like. That. And then you're both walking away from each other, and in that moment you're on the same exact path, just going in different directions. And maybe you'll turn around, because you can't just leave like that, but by then you're already too far apart, too much time and space between you.

Straight ahead. And maybe you can't do any of those things, or don't know what to do. In that case, you just keep going. Keep following your own path, while your friend follows theirs. And maybe, somewhere way up there, your paths will intersect again. Or maybe they won't. In the meantime, in the now, you just do what you can and go where life takes you. Enjoy the time where you're walking together, find ways to enjoy walking alone, find someone new to walk with. And watch, reminisce, as the distance between you grows.

We all have to choose eventually...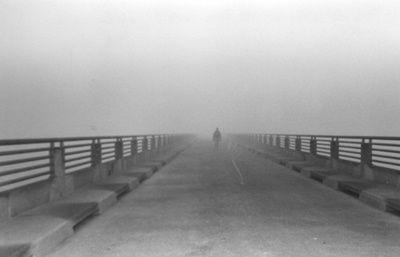 © Becky G., Westerville, OH