Sandbox
May 26, 2015
My eyes linger on the old, cracked, faded once-red-and-now-coral shovel, which sticks upright in the sand like a soldier reporting for duty. In its shadow is the matching pail, pale watery blue in the hot Texas sunlight. A toy dump truck is parked to the side, forever in the dropping position with nothing to give except for a truck bed full of clay-like sand.
I only remember playing with these items as a child, and staring into the overgrown wooden box brings back memories of dirt-coated glasses and tan, gritty toes. What a time to be alive.
But, here lies my question.
Let me specify.
Sand can be anything. Keep it dry and it obeys gravity, but wet it and it becomes clay, sculptable into anything a mind and some hands can conceive.
These activities are for children. See that man over there playing in a pit of sand? That is simply unacceptable. Immature. Childish.
Here lies my question.
But still, let me specify.
Humans can be anything. Keep them isolated and they dissolve, but immerse them in society and they mesh, transformable into anything their heart desires.
Here lies my question.
If humans and sand are so alike, then why are sandboxes only for children?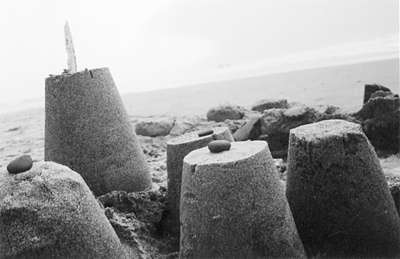 © Lydia D., Seattle, WA