Unique and Beautiful (With Bullying Views)
July 13, 2011
For some people, whenever they see someone like Lady Gaga or Kris Angel on television, they usually call them freaks or aliens. I call them different, inspirational, or talented. Maybe even wonderful and accepted by themselves. But of course, some people have different opinions as to what's good to be and what's bad to be, especially in public.

There are people in the world who want to change the way things are, and make the world a better place for all. For some it's through some medical breakthrough, like discovering penicillin or the cure for pneumonia. Or maybe it's for the environment, banning something harmful that may be destroying the ozone layer. But, like in many movies, animes, and cartoons, it's all about being accepted by everyone else as someone who did something good. Or bad, you may never know. They want to go down in history, be put in the newspaper for a day or two, or be mentioned in a novel. But for me, being different and unique is a blessing.

Being different also seems to cause bullying in some schools.

Almost everyone knows what bullying is, has witnessed it, or has been a part in it. And, sadly, it causes suicide in many states in the US, and countries around the world. Fact: suicide is the third leading cause of death among young people, resulting in about 4,400 deaths per year! And, on many websites it states that girls are more targeted than boys! Seriously? Who would want to bully someone to death, or to attempting suicide in their own homes?! Especially if they have their whole lives ahead of them?

Back in 2009, on the news station WCVB TV in Boston, Massachusetts, there was a news story on a boy who committed suicide due to people tormenting him at his school. Mother Sirdeaner Walker found her son, dangling from an extension cord on the second floor of her home. Carl Joseph Walker-Hoover had hung himself. He was 11 years old. His mother said that she had tried contacting the school about him being targeted, but no one seemed to listen. Suicides like these happen every day.

But, don't give up hope! Of course bullies are people who usually dislike people for reasons that seem to matter to them. For some it's because they don't get enough attention, they don't fit in, or they want to find an escape from their problems. And for others, tormenting is the only way to make them feel better by making others feel worse. It's a sad world we live in people! But, we can stop this violence! Be free to be different, singled out from everyone else!

I'm the kind of person who likes to wear strange things to school, who is the brightest in the crowd, and one who loves to read. I've had people come up to me and call me hurtful names like nerd, freak, too tall, smarty pants, or four eyes (but I don't wear glasses anymore!)But even then, I decided to stay strong and ignore the taunts, and try to stick up for others. I love being different and unique and beautiful, and no one else is going to change that but me! In the past, I have tried to be the preppy girl who is a cheerleader. But it just wasn't me! I've tried to wear tight shirts and tons of makeup, but that doesn't fit me either! But, I found out exactly where I could be accepted, by my friends!

How many of you have a group of friends who you hang out with? How many of those people would take a bullet for you if necessary, or stick up for you? I have those friends now, but I didn't have them before. I decided to make them!

So whenever a bully tries to bring you down, stand up for yourself! Tell them to beat it! Leave you alone! And don't be afraid as to what people might say if you wore mismatched socks, or too bright hair color! Be happy, be you, and be free!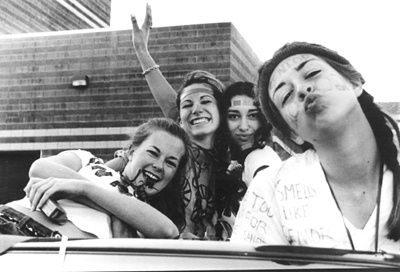 © Sara B., Marblehead, MA