What is Fear?
April 29, 2011
Fear is the look on a student's face when their teacher gives them back a test they didn't study for. Fear is when a girl's face when she gets on the scale and realizes she's gained ten pounds. Fear is the look on a teen's face when they get caught smoking in front of their parents. Fear is when a girl reads a "+" on her pregnancy test. Fear is a common, sorrowful word and we should not feel or see fear as much as we do.
Numerous things can cause the feeling. Lack of self-esteem, rejection, abuse, jealousy, the list goes on and on. I believe fear can be avoided, but for it to be avoided, people need to stand up and help others. If your friend realizes she's gained ten pounds, help her, so she doesn't go bulimic and get severely unhealthy. If you see your peer gets an "F" on a test, say, "It's okay. You can make it up. We'll have a lot more tests before the semester is over." You need to get involved because fear can go a long, long way. Awhile ago, a boy committed suicide because someone found out he was gay and told everyone. If someone had just stood up for him, held his hand through that tough time, he may still be alive today. Never let fear build up inside yourself or inside someone else.
If you're feeling fearful, express yourself. Personally, I express my fear, and other feelings, by writing. It's a great way to get your thoughts out. However, I know writing's not for everyone. You could also express yourself by punching pillows (not people, please!), talking to someone about it, doing yoga or breathing exercises, or reading about other people's stories and how they overcame their fear.
I just hate think about how often people feel fearful. It's not a healthy--and certainly not a happy --feeling. Trust me, I know. I've felt fearful so many times and I never want to feel fear again. We all need to participate in fighting that terrible, four-letter word. Fear.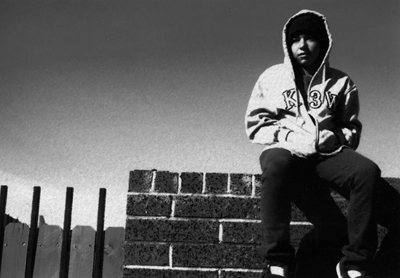 © Stan G., Phoenix, AZ