Having Great Expectations? Setting High Goals. And Chasing Them
March 20, 2011
"High achievement always takes place in the framework of high expectation." This quote by Charles F. Kettering, American Inventor, was always very awe-inspiring for me.

I believe that inside every human being there is an intrinsic desire to achieve their dreams in life. The only problem is, we often don't take the time in this chaotic, hectic, fast-paced world, to notice our dreams and set our minds to making them all come true. Having dreams is just the start. But making our dreams come true is what takes courage, strength and a whole 'lotta time and perseverance. But in the end, it is what is going to be well worth it.

Every little girl dreams of her future. She will walk around the house, wondering if she will be like Cinderella and marry her Prince Charming...or if she will be famous.

I was that little girl. And more than anything, I wanted to see myself in books. At the age of two, I fell head over heels in love with the Dr. Seuss stories and began memorizing the prose. In kindergarten, my picture book on George Washington was awarded a children's Newberry award that was being handed out at school. At the age of six, when the rest of my class was reading "The rat wore a hat…" my teacher assigned me the American Girl books. In sixth and seventh grade, I was reading at college level. Today, my English and writing skills are off the charts, though other subjects are noticeably lower. I think we're seeing a connection here. Only recently did I discover that my dreams of being a novelist really began back when I was two and reading Are You My Mother? in my plastic treehouse. But it took even longer to discover that though writing was my dream, I didn't have to wait until I was out of college to begin making my goals come true.

There is absolutely nothing wrong with setting high goals! Expectations need to be limitless. There's no such thing as the impossible dream. Dreams do come true...on one condition. Only if you chase them.

My Mom recently discovered a quirky little book at a vendor in New York City called If It's Going to Be, It's up to Me by Robert Schullen. That is a great little phrase to remember. If it's going to happen, then by golly, you better do something about it...or else it won't happen. It's not enough just to have the dream. You have to want it. You have to want it more than anything else and you have to be willing to do whatever it takes to make it come true. Every successful person in the world has to set their eye on the prize and work towards it with all that they have. Only when they have decided on their high goal can they reach high achievement.

"I always knew I'd be a millionaire by age thirty-two," said Oprah Winfrey in 1987. "In fact, I am going to be the richest black woman in America." Twenty three years later, with a profit of over one billion dollars, Oprah really is the richest black woman in America...and one of the richest people in the world. This is not a coincidence. She set ambitious goals. "The big secret in life is that there is no big secret," she said later. "Whatever your goal, you can get there if you're willing to work."


The most common excuse I hear to setting high goals is, "But what if I fail?"

Trust me, it's much better to chase your goals and not succeed than to back down and always wonder the "what if."

Never let the fear of striking out keep you from playing the game. What if Babe Ruth had been too scared of failure? What if Thomas Edison had given up on the one hundredth try of the light bulb? Thomas Jefferson. Madame Curie. Leonardo DaVinci. Elizabeth Blackwell. Martin Luther King Junior.

They all have one thing in common. They set great expectations for their lives and were not afraid to go after their dreams and goals.

Michelangelo once declared: "The greater danger for most of us lies not in setting our aim too high and falling short, but in setting our aim too low and achieving our mark."

Successful people are only successful because they are goal oriented.

When I was thirteen years old, my mom got our family started in the NCFCA speech and debate competitions. As I began to learn more and more about the program, I set my mind towards my goal of qualifying to the Regional tournament, something only a handful accomplished at such a young age. When I got to Regionals, everyone told me was I pretty much guaranteed a slot to Nationals...but when I didn't win, it devastated me.

But I learned much more than to be a good sport. I learned that winning isn't everything. The real prize is in achieving great things. My goal that year had been to make it Regionals - and I did! This year, my goal was to make it to Nationals.

I worked for eleven months on my speech when competition season rolled around again. And this time, I was prepared. At Florida, I won second place. At Georgia, I won the title of third. Then...Regionals came. Things began to look promising. I had placed to the Finals. If I was in the top four out of eight, I would qualify to the National tournament. That day, I kept telling myself that this was it...this was what I wanted. And that night, I walked away from the auditorium with several medals and two bronze wall plaques.

I had done it.

I had qualified to Nationals. At last.

Had I made to Nationals my first year, being only thirteen, I would not have truly savored the moment or appreciated all the work it took to actually achieve my goal. Now, I can really say that I set a very high goal, worked ridiculously hard at it and made it come true. And that was the best feeling in the world.


Today, people ask me how they think I made it to Nationals and what it really took. Truthfully, to describe the effort is pretty much impossible. Just recently, I read back over my journal entries from the past several months. Over and over again, I kept writing, "I want to go to Nationals. I will do whatever it takes!" Having that mindset is what really rocked my world. I would stay up crazy hours and was so goal-oriented and knew exactly what I wanted that I wasn't going to take no for an answer. When we Hortons know what we want, there's no stopping us. And more than anything, I wanted to go to Nationals.

My Dad always used to tell me that he could picture me doing great things with my life. We have discussed being a lawyer, doctor, teacher, writer, actress, singer...but the one thing I really learned from him, was that no matter what I did, I would set my goals to the highest standard and chase my dreams. It has made a world of difference living in a family dynamic that aspires people to make their deepest wishes come true. My Dad went from owning a small video rental company in the rural countryside of South Carolina to being an executive marketing director at one of the top companies in the world! How? High goals. Great Expectations.

I want to be like that someday. I want to look back on my life, like I did with my speeches, and trace the lines from finding my dreams, chasing them and watching them unfold before me. Who knows? Maybe I will end up being a novelist...it started when I was two. Or maybe God will lead me down another path. But if I've learned one thing, it's that whatever I do, I will do it to the best of my ability. I will have clear, ambitious dreams. I will set high standards and goals. And I will have Great Expectations of me and my talents.

"You see things; and you say, 'Why?' But I dream things that never were and I say, 'Why not?'" George Bernard Shaw.

So...what will your legacy be? Do you have Great Expectations?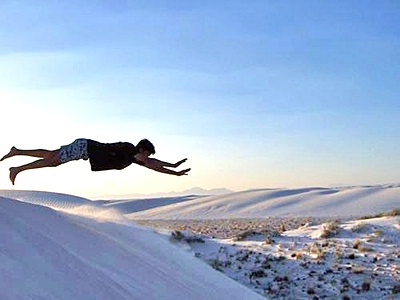 © John W., Evergreen, CO