A Baby for a Kid
March 5, 2009
"I don't think it's time yet." I mumbled through the blankets I clutched stubbornly above my neck. I rubbed my enlarged belly and whispered a desperate plea to the baby inside, " Please let this be it." I said, contradicting everything I was telling my slightly panicked fiance.
My doctor had let the words, " any day now." fall carelessly out of his mouth last week. A sentence that rendered me completely useless. I had sat everyday on the edge of the bed, waiting for the contractions to start and dancing in excitement for even the tiniest gas bubble. I had given up hope, however, when my doctor scheduled an induction for that friday.
" Maybe you should time them." My fiance said, perhaps for the hundred and twelfth time. I shook my head, not wanting another embarassing incident. I just knew that if I said anything about it at all, this baby would latch itself onto my belly button and never come out.
They continued though, and my mouth felt completely dry as we packed our bags for the hospital. I wasn't ready for labor, labor sounded really painful. I struggled against my own brain as it repeatedly flashed through all the birth videos I had watched to prepare. Those women had screamed like they were dying, they had thrashed around, they had even vomitted.
The epidural wasn't any better. Everyone I knew that had had a baby insisted the needle was huge. All I could imagine was a laughing madman, squirting blood off the tip of a three foot needle. That man was getting nowhere near my spine. Perhaps they could put me under like they did in the fifties, then when I woke up I'd have a baby.
We arrived at the hospital a little too quickly for my taste, where the crabbiest nurse in the world insisted that I could not be in labor and sent me home. I left with a feeling of dread upon me. How would I know when to come back? What if I waited too long and delivered a baby on my bathroom floor? I couldn't do that, my bathroom was filthy. Why didn't I wash the floors when I could see them?
The rest of the day I spent in my room, with contractions too painful to nap through. I called the nurse's repeatedly, but gave up when the last nurse said,
" You sound too happy to be in labor. Do you hate your husband yet?" That was useless information to me. Of course I hated him. He was the one watching tv and occasionally rubbing my back, I was the one in pain.
Eventually I settled into a routine. I would feel the contraction come on, stand up, and rock back and forth against the basinette. I was so proud of myself as I got through each one, until finally I felt the pain build up in a way that would have made me think I was dying, had I not known better.
" It's time to go the hospital." I said, imagining the madman with the three foot needle. Suddenly, that needle was transforming into a golden swan, playfully spitting magic out of it's beak.
I was already almost done by the time I arrived this time, almost an entire day later. They gave me the epidural three times, while my fiance sat in the corner and made horrendous looks. I must have been right about the madman, nothing else would have justified that face.
It seemed like time flew too fast before I had to push. I didn't know how to push. I couldn't even feel my legs, let alone use them for something that required pushing. I pushed three times while the nurse told me what to do, insisting that I accomplishing something. She was a liar. I couldn't feel anything at all. I tried not to cry as I remembered the birthing videos. I was going to have three hours of useless pushing and then a C-section.
" wait a second," I yelled as the nurse made me wait for the doctor." He's coming!" He was sliding down so quickly I started closing my legs together in desperation. I wasn't pushing! How could this be happening? I changed my mind, I didn't want a baby. Babies are hard, they cry, and they poop on you.
Then I heard his cry. His head was out, the doctor had rushed in just in time to pull him out and put him on my chest. My fiance cut the chord, while I weeped insanely over him. He was fat, covered in disgusting muck, and he was absolutely perfect. Perhaps I won't mind so much if he poops on me.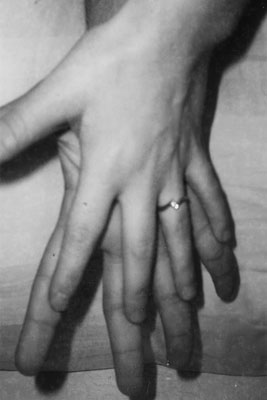 © Heather H., Phoenix, AZ