What is Feminism?
MAG
November 3, 2015
Feminism: "the theory of the political, economic, and social equality of the sexes." Yes, that is straight from Merriam-Webster. No, I am not a crazy, man-hating lesbian. I just believe that men and women should be treated as equals. I've grown up with strong women surrounding me: my grandma, my mom, my aunts. They all call themselves feminists. I wasn't always comfortable identifying as a feminist; it took me a while to realize that it doesn't mean I have to hate men or burn my bras. It means that I want and will fight for equal rights.

It wasn't until the beginning of freshman year that I began calling myself a feminist. I was working at a grocery store and realized how some women were treated there. I was, and still am, one of those women. Without fail, I get called one name or another by the time I clock out. It doesn't matter whether the man is still in college or lives in a nursing home. "Sweetie." "Honey pie." "Darling." Never "miss" or even "ma'am." I have to pretend I don't care as a male customer calls me "Sugar" and refers to my bagger as "Sir."
I'm glad that this is all I have to deal with. I've heard horror stories from other women about their work experiences. I talked to my mom, and she shrugged and said, "Boys will be boys." But these aren't boys. They are grown men referring to a teenage girl as their "Sugar darling." I've been told that this doesn't end in high school. It doesn't even stop when I get a degree or a fantastic job.

The more I venture out into the world, the more I learn that this is true. Here's an exchange I had with an older man at church:

"So you want to be a nurse?" he asked.

"No," I replied, "a doctor – a pediatrician."

Again he said, "You mean a children's nurse?" I just shook my head and walked away, unwilling to argue. Every time I'm asked why I want to be a doctor, why I think I can get into an Ivy League medical school, I am even more determined to prove them wrong.

I have realized that as a woman, I need to take extra precautions to ensure my safety. At a gift-wrapping event at Barnes and Noble, I was persistently pursued by a middle-aged man. After a couple of hours of politely but dismissively answering his invasive questions, I decided that enough was enough. I excused myself and talked to the store manager, who told me that he's bothered women before. With this information, I was thoroughly frightened, and by the end of the night, was happy to escape my favorite bookstore. As we left the parking lot, I glanced in my rear-view mirror and saw his car following us. I've never been more terrified. When I alerted my mom, she went into protection mode; she drove to the police station and pulled in. We watched his car slowly drive by, his eyes never leaving mine. I'll never forget the fear I felt.

To me, feminism isn't something that should be debated; it isn't something people should be against. Feminism, simply put, is the belief that men and women are equal. I don't think that men should be hated or have their rights taken away. That's the opposite of what feminism is about.
Regardless of gender, equal rights are essential to a well-run society. For someone to call themselves an anti-feminist doesn't make sense to me. By saying this, they are saying that they don't care about equality. Equality is something I will fight for for the rest of my life because we are not even close to reaching it.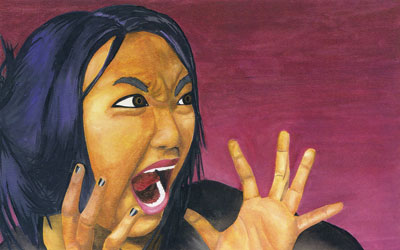 © Lauren S., Forest Hills, NY