Drag Queen Dreams
MAG
July 1, 2010
For as long as I can remember I have had a very positive view of the gay and lesbian community. But it wasn't until ninth grade that I took an interest in GLBT (gay, lesbian, bisexual, and transgender) culture and gained a greater understanding. Through books, movies, and tolerance workshops, I found acceptance and even affection for the GLBT community. But I was still very surprised when I realized that drag queens are outstanding examples of feminine power and beauty.

My drag queen epiphany occurred because of a combination of reality television and a teen novel. The TV show was "RuPaul's Drag Race," a competition to find "America's next drag superstar." I found the show exciting and intriguing for many reasons beyond seeing men in dresses. The book was Freak Show by James St. James, which chronicled the life of Billy Bloom, a teenage drag queen. I found the story compelling and sympathized with Billy when he was tormented by his classmates. It was through this book and show that I became conscious of how empowering dressing in drag can be.

My fascination with and admiration for drag queens is mostly due to the air of confidence that surrounds them. When they walk, they hold their head high and dare the world to try to put them down. I admire their self-assurance and comfort in their own skin. They are beautiful because they feel beautiful, and that is something every woman should strive for.

Drag queens are fantastic and fabulous because of their ability to be themselves without being themselves. Their alter egos are like a stronger, fiercer version of their regular selves. In many ways I feel that drag queens are the best example of female heroes because they exemplify everything a woman should be: strong, secure, sexy, and stylish.

This epiphany has had an odd impact on my life. I have become a very passionate supporter of drag queens. I think they are beautiful, talented people who have the power to inspire others. This may sound odd, but I have a secret dream to be a drag queen. I know this may seem impossible since I am already a woman, but it is still something I'd like to try. I would like to be able to bring out the inner me that hasn't had a chance to shine. I have actually already chosen a name and theme song, and I am working on a costume and dance number. It's all thanks to my realization that drag queens are empowering representations of women everywhere.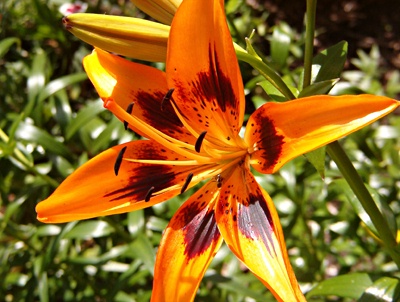 © Terrin C., Humboldt, IA