Unexpected Prejudice
MAG
Prejudice is far from extinct; it lurks in the dark shadows of school hallways. It waits for someone to hurt, someone whose only crime was being born a certain way. No matter how much we refuse to acknowledge the fact, it will never go away - it is a part of us and we are a part of it. Every day we are told that our differences are what makes us special. What authorizes another person to feel superior enough to discriminate?

I am Chinese - it is the one thing about me that I truly accept and am proud of. I hadn't realized how bigotry can happen anywhere, anytime, until it happened to me. This past year, I had several brushes with the cruelty of prejudice.

A few weeks ago at school, as I made my way up a chilly stairwell, I encountered two girls. They were laughing and joking, swaying back and forth carelessly. One thrust a textbook at me. I turned, to see if this was merely an accident. My glance was not cold or enraged. For a few seconds silence fell in the hallway. I turned and heard them mercilessly laughing. They began pretending to speak Chinese, while their cruel laughs continued.

I wasn't angry; I was heartbroken and disappointed. For once, I wanted to be anyone but me. For once, I was ashamed of who I was. For once, I felt lost. This was the year that I finally had begun finding my place in the social world of high school. But in that one minute, I felt more like an outsider than ever.

Throughout history, many have fought for equality. Being not only a witness to but the victim of discrimination made me realize that the future is falling into a hopeless abyss. The future is in the hands of people whose only words are used to mock another, to bring pain to another who has caused them no harm.

Recently, in a separate incident, I was waiting with my sister in front of school when I was grabbed by a strange boy who yelled, "Asians do exist." His friends stood aside and mocked, while another boy, who was in one of my classes, told him to let me go. He knew that I don't like being touched, especially by someone I don't know. I am grateful for my classmate's words of bravery, which I could not express myself out of fear and humiliation.

I was hurt that out of the few Asian students at our school, he chose to say those words to me and those who were there to watch. I felt invisible; his actions made me feel like nothing. It was as if I was watching myself endure this painful disgrace while I could do nothing to defend myself and my culture. I wanted to be nonexistent. I wanted to be a figment of the imagination, where nothing could hurt me. I could be run over by several cars, fall off a cliff, drown in a shark tank, and I wouldn't know any different. I would come out the same as before.

Not many realize that words can scar perhaps even more than actions. There is no justification for ridiculing someone for something beyond her control. My eyes are different, my skin is different, and I am different, but I refuse to be thought of as a piece of trash to be stepped on.

My origins do not define the type of person I am or will become. I will rise above my fear and stand up for myself and others like me. In time my words will overcome a person's prejudice against me. I realize that I am contributing to what makes America so special; by being different, I am part of something bigger than myself. I am part of America's melting pot.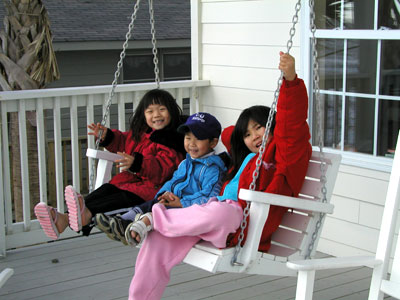 © Annie Y., Northborough, MA