You Are a Writer If... Feedback
March 6, 2013
It was with the help of Claire and her article "You Are a Writer If..." that I was able to reach a certain conclusion- I am, indeed, a writer from all perspectives. I must say that I was very pleased upon reading this piece in the March issue; I always enjoy a wonderfully witty piece that I can relate to, and being that Teen Ink is a community of those who have a knack for all things creative, I'm sure I wasn't the only one who felt an instantaneous connection with Claire. "You Are a Writer If..." could very much be turned into an author's oath.

Not only was this piece memorable in its humorous tone, but also in its detailed portrayal of the average writer. The nerdy, quirky, and even somewhat insane phases of writers' lives were all blended together into an ultimate biography. Even as I was able to see the personality that pertained to the author through her experiences, I felt as if I was taking part in my own journey to self-discovery. I will admit that I also sniff the pages of new books, wince when my pencil lead breaks, organize practically everything I own into lists, and allow my floor to be hidden beneath stacks of sheets and scrap paper; I could agree with a great amount of the specific of details mentioned. Perhaps this is what Teen Ink needs more of- pieces that allow the reader to nod in agreement after every line.

Claire's extraordinary article became my favorite from Teen Ink at once. I do believe that "You Are a Writer If..." made me fall in love with writing all over again and was a source of determination for me to never give up on my passion. So thank you, Claire, for a beautiful piece that refueled my enthusiasm for writing.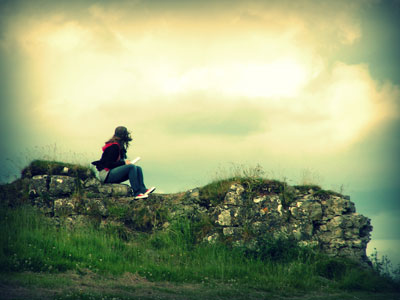 © Caroline C., Coronado, CA