Plastic Surgery is the Most Life Changing Surgery
May 6, 2014
Plastic surgery, it's life changing. Your mental health, physical health, and the risk of becoming addicted are some of the reasons plastic surgery is life transforming. Some say that plastic surgery is bad, though others have the total opposite view on the situation, but it is very life changing if you think about it.

Plastic surgery can harm your mental health, along with other effects. Tilmann Von Soest and his colleagues at NSRI, or the Norwegian Social Research Institute, conducted a study, and showed that women between the ages of 18 and 65 on average were more depressed after their surgery. This is because after a surgery, the patient finds another flaw, making them feel down again, or the surgery they have isn't what they expected, making their dream look goal farther away than it was to begin with.

"It seems like those who get cosmetic surgery have more problems than others, after the surgeries their symptoms of depression, anxiety, eating disorders, and excessive alcohol consumption have increased." , Professor Ingela Lundin Kualem states. Within the past 7 years, studies have shown that after plastic surgery, an increase of women had thought, and even attempted suicide.

Not only does plastic surgery cause you to think differently, it causes more flaws among your body. Plastic surgery can cause scars, due your genetics, " It really comes down to the patients genetic factors, you can do the exact same surgery and one may heal while the other wouldn't heal." Bayati said. More than 12% of people had skin loss after having a face lift, and 25% of women who undergo a plastic surgery have a greater chance of incoming complications.

Others though, may say that plastic surgery can't harm your mental health- that it actually helps heal their mental illness. This isn't necessarily true, while you may think that, you will want it at first, but then you'll soon find out you hate what you look like after you get the surgery. Therefore, plastic surgery does NOT help your mental help, and has a higher risk of putting you into depression.

Not enough to convince you that plastic surgery is the most life changing surgery? How about this: Plastic surgery puts you at a greater risk of injuries, or even death. The possibility of death is 3-20 deaths for every 100,000 surgeries. That's way too many deaths within a certain amount of surgeries.

In the area of plastic surgery, 10% to 70% of the time, the area is numb or sore after the surgery. During the plastic surgery, toxic levels of anesthetics are known to occur. This causes respiratory failures, which can lead to hospitalization, or even death.

Now, some say that injuries are just because of bad surgeons. If people did their research, they would know what to make sure their surgeon has, in able to do the surgery, therefore making the risk of injuries the person who is getting surgery's fault.

Even more, plastic surgery can become addictive. Mental addiction to alter one's body and face has increased over time. Oprah Winfrey interviewed Jenny Lee, a woman who got dependent on plastic surgery and looks like a human Barbie. She states, "When I look at my reflection, I still don't like what I see.". At the time Oprah interviewed her, she had already undergone a total of 25 surgeries! Celebrities such as Janice Dickinson, Sharon Osbourne, Heidi Montag, and Dolly Parton have been known to become fond of plastic surgery, but why?

"Addiction is started from one insecurity, then they find another until it becomes an addiction", Dr. Howard Samuels states. Obsession is also triggered by people wanting to look like celebrities, but why? If a person feels like their favorite celebrity is perfect, they want to be perfect too, their goal - to become perfect.

Some say that plastic surgery isn't addicting, more of an obsession and they could stop at any time. But can they really? Finding one more flaw and not changing it could be impossibly hard not to fix to someone who has undergone the knife multiple times, therefore it'd be an addiction.
Plastic surgery is life altering, no doubt about it, period. Dr. Howard Samuels even stated it, an addiction is life changing. You may still think that's it's normal to get plastic surgery, and that it is exquisite, but plastic surgery has changed the lives of millions of people.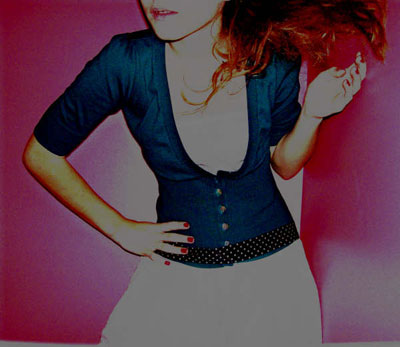 © Jenna V., Hamilton, ON, Canada