Community Gardens Beat Out Covid19
May 22, 2021
While many factors play into the unequal distribution of food, recent food shortages caused by Covid19 attribute directly to a spike in grocery pricing. To help equal out the distribution, community members should create and/or participate in community gardens.
During the height of Covid19 panic, consumers rushed to the stores, causing an increase in the demand for goods like toilet paper and hand sanitizer that suppliers could not accommodate. What often gets overlooked as having been affected by Covid19 is the agriculture industry. Consumers with an ample amount of money were able to purchase more food to store during times of quarantine. However, other consumers were left with little money due to an increase in unemployment. A problem that many of them are still facing today.
Many consumers do not have adequate access to food on account of the Covid19 pandemic. According to the USDA economic research service, "food prices were 3.6 percent higher than in February 2020," as of February of 2021. A large portion of community members are struggling to meet these new expectations in price, especially after the Covid19 pandemic stripped many of them of their jobs.
Participating in a community garden will allow these community members to find a sense of purpose in these dreadful times while providing them with food at a reduced price or for free. Community members can work together to build a simple fence around a divided section of land. Each person who signs up can be allotted a 1mx1m plot of land to grow whatever their heart desires. They could also be allowed to consume other community member's food when regulated.
Hesitance can occur due to the amount of time it can take, community members, being cooperative, and finding money to begin. All of which are required for such a daunting task. Fortunately, spreading out the duties, enforcing rules and regulations, and applying for grants can all help make a community garden successful. Eventually, the pros will outweigh the cons, and make all of the hard work worth it. It is true that community gardens require time, effort, and money. However, that is why it's called a community garden. Everyone works together to make it as successful as possible by participating and spreading the message to others.
Building a community garden is hard work; in the end, the payoff is worth the struggle. Michelle Corrigan, in the journal of Applied Geography, goes in-depth about how people have created a community food security movement to overcome the unequal distribution of food. In addition, she states that community gardening is one of the ways that food production has been localized. If more people get involved in this movement, there will be a greater chance of success at equalizing the distribution of food to ensure that everyone can get a chance to eat. Everyone needs food, and Covid19 negatively impacted many consumer's access. Community gardens will always be there for people who need support, want to learn how to grow their own food, and more.
When Covid stole countless jobs, previous workers lost a majority of their income. A similar occurrence happened in Venezuela in 2016. Newsela explains, "Collapsing oil prices have sapped the country's ability to bring food in. As a result, Venezuela is now ripe for adopting the new practice." Prices rose exponentially, but their citizens weren't making any more money which led them to crash into a state of hunger. If they adopted the practice of community gardening before the crash, they may not be in as bad of a situation as they are currently. To ensure that everyone always has access to fresh food, community gardens need to start being built today.
Go out, apply for a grant and insurance, get some fence materials and seeds, and start building! In addition to community gardens protecting food distribution, there is an opportunity to teach children about farming and the Earth, adults can find a sense of purpose and community, and everyone can have equal access to food when in need. Community members of all ages can learn from the experience of community gardening while helping to equalize food distribution. Additionally, any excess food can be shared with others, sold, or donated to food banks. All in all, community gardening will allow for greater distribution of food for all!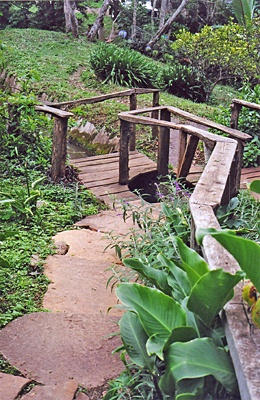 © Ray S., Clovis , CA