Horses Help
MAG
It's six o'clock on a Saturday morning when the alarm goes off. My body protests, but I know I must get up. It is another morning of community service at Horses Help, where people with handicaps ride horses.

Riding is very therapeutic, and horses provide movement that can help build muscle strength. Most riders at Horses Help are children with verbal challenges, but there are also some with physical problems too.

Every Saturday we have three rides lasting between 30 minutes and an hour. Depending on the strength of the rider, I either lead the horse, walk beside the horse and hold the person, or coach the person in exercises and stretches.

I usually show up around seven and leave at noon. I find my time there very rewarding because I know I make a difference. The kids look forward to coming each week and doing activities "normal" people do. I love seeing their glowing smiles when the horse sneezes or begins to trot, or hearing them as they come to mount the horse calling my name and knowing they remembered me and that I am there to help.

This program offers kids something magical. The horses and the time shared with each rider leaves me in awe. Even when my service hours are completed, I will continue helping because I love how it makes me feel.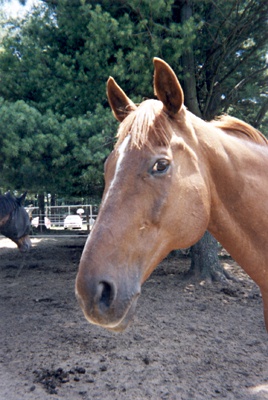 © Anonymous