Will Work For Others
MAG
August 11, 2011
"Hungry. Cold. Please help. God bless you" read the cardboard sign in her thin fingers. The frail woman stood by the road and watched as hundreds of cars passed by, no one even giving a second glance. Her listless eyes stared out from her gaunt face, her matted knot of hair more gray than blonde, and her lips parched and cracked from being outside. She had tied her old jacket around her waist, and her shoes had duct tape wrapped around the soles.

No one seemed to see her. But I did.

I watched this woman whose pleading expression captured my compassion. I wondered what her name was, where she came from, and whether she had a family. Tuning out the conversation in the car, I stared out the window but did nothing. The little catch in my spirit nudged me to speak to my family and try and do something to help her. I turned to my mom and was about to suggest going over to give the woman some food or money.

But just then the light turned green. I sighed as we drove by her. Shrugging my shoulders, I tried to brush her from my mind and return to the book on my lap. But I couldn't get the woman's haunting ­expression from my mind. I don't know why my thoughts kept returning to her as we continued home. We had passed numerous homeless people in this part of town and I had never felt this way. Try as I might to read my book, I kept wondering when she'd have her next meal or where she'd sleep that night.

I am sad to say that I never saw her again. But for days I was tormented, burdened by the fact that I had felt called to do something but had not let my convictions come to fruition. I was crushed by the weight of her memory and the despondent look in her eyes.

Look around you, the voice in my mind whispered. Look at your beautiful house. It even has a pool. Look at your two cars. Look at your computers and flat-screen televisions. Whenever you see these things, remember that you are blessed to have such ­opportunities and such wonderful ­material things. Make use of them.

I knew my conscience was right.

So I began to do research. According to the ­National Law Center on Homelessness and Poverty, between 700,000 and two million people are homeless on any given night in America. There are also far more homeless people than the capacity to care for them in shelters.

I decided to do a community project that involved helping the homeless. My mom and I ­happened to hear about the H2O project, which stands for Hope 2 Others. This program gives students the opportunity to help the homeless without necessarily giving them cash, which is not always used in productive ways. Instead, H2O fills paper bags with necessary items like water, food, socks, a free meal ticket, a shelter brochure, and a toothbrush. The bags are ­distributed to the public, who can then donate these care-packets of hope to homeless individuals.

Instantly, I knew I had found the project.

I worked with my mom and my speech club to create hundreds of H2O bags, which we sold at the local church for $3 each (to cover basic production costs). We took every opportunity we could to promote our new venture, hoping to create demand in the community for more of these simple ways to reach out to those in need. Once, I was even suddenly handed a microphone in front of a gymnasium full of people and given the chance to deliver an impromptu presentation on our efforts and how they had impacted lives.

Within just a few weeks, we had no more bags left. What made this project so rewarding was the response from those who bought them. One elderly lady came up to me, squeezed my hand and said: "You're the girl, aren't you? The one who gave the speech on the bags for the homeless? I just wanted to say thank you, thank you, thank you so much for all of your hard work. I pass by a street where there is usually an old man standing with a sign, and I never knew what to do to help him. I bought five of your bags this week and gave them all away, and it was so wonderful knowing that I was helping somehow."

What started out as a simple conviction has grown into an annual community-wide project. It takes a lot of time and effort to create, sell, and distribute the bags, but I know it's worth it. Seeing the joy and surprise on a man's face when our white van pulls over to hand him a little bag is priceless. I know it means so much to feel like somebody cares.

I can still picture that woman who stood by the curb with her cardboard sign. I truly regret not speaking up that day, not trying to help. Still, I know that because of her, I have been able to reach many others.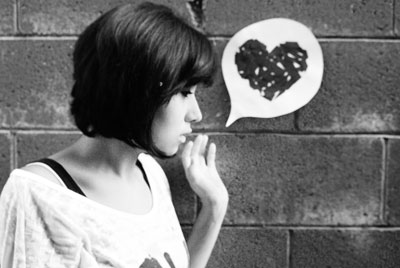 © Michelle B., West Covina, CA