I'm Sorry, Eric
MAG
June 28, 2013
"Hey, retard! I'm glad you're moving. It's about time this school gets rid of one of its biggest losers!"

These were the last words my best friend of 15 years heard.

Eric was a six-foot, blue-eyed, trustworthy person, and like a brother to me. I'd known him my whole life. He was someone I naturally clicked with. We liked the same music; we even liked the same color.

Then came this horrible news: he was moving to Florida. At the time we were eight, but I knew the connection we shared would last our whole lives, even if we lived in different states. At our last meeting before he left, we exchanged a promise in the form of a quote: "Best friends may not last, but brothers remain forever."

Eric and I decided we would talk on the phone every Tuesday evening for an hour and we did exactly that.Whether I had to get up from dinner or leave a friend's house early, we kept our promise.

Fast-forward to my fifteenth birthday. I received a ticket to Florida. After seven years, I would get to see my brother again! But when I arrived, I could tell that something was very wrong. His bright blue eyes seemed almost gray, and around those gray eyes were bruises.

I had known he was a victim of bullying, but now I could see how serious it was. This was not the Eric I knew and loved. He explained how he had tried to stop it, how he fought back but lost the physical and mental battles because he was alone.

I began to rethink my life, wondering if I had ever made anyone feel alone? And how had I not known what he was going through? If we talked more, would he have been okay? I began to blame myself but didn't voice my fears. As the week drew to a close, we again parted with a quote: "Never look down upon anyone unless you are helping him up." I recited this quote every night before I fell asleep and every morning when I woke up. Eric wore the quote on a dog tag around his neck.

After my visit to Florida, we began talking more often, and Eric opened up to me about the pain and agony he was enduring. Right before my sixteenth birthday, our normal Tuesday night phone call took a serious turn. With tears in his voice he muttered, "I cannot … I cannot live." I was terrified. It only got worse from there. Another year went by and I was worried constantly. I could not shake the idea that this was all my fault.

That year, I started at a new school. I still had that gut feeling that Eric was not okay. I hadn't gotten a call or message from him for two weeks. One afternoon, my mother called me."I'm coming to pick you up, Av," she said. "Meet me in front of the school." I knew Eric was in trouble.

When we arrived home she sat me down. "Avi, I am so sorry to tell you … your friend Eric –"

"My brother, you mean," I interrupted.

"He was found dead in his house with a note. You were mentioned in the final lines. Would you like to read it?"

Without hesitating, I grabbed it. I will share the last lines that have shaped me ever since and will always rule my life: "Avi, I'm sorry. This was not your fault. I'm not dead, only at rest. I'll look over you forever. I know how much you love quotes, so remember this: 'Look to your right, look to your left, make sure the people there know how much you love them, because in the blink of an eye they could be gone.' I'll see you in heaven. I love you."

I cried myself to sleep that night, and many nights after that, and still do, to this day. As time passed, I became careless. I was depressed. Night after night I read Eric's letter and truly blamed myself. I felt useless, hopeless, and worst of all, alone. It took time before I was really ready to hear Eric's final words and let go of the blame I had placed on myself. When I did, a whole new me emerged.

Much like every teenager, I once believed the world revolved around me. But after this experience I realize that nothing and no one will last forever and nothing can be taken for granted. I have promised Eric that no person I ever meet will go home thinking that no one cares. But more importantly, I realize that everyone has a story. You never know what someone is going through behind those seemingly real smiles, and you never know how much a single word or phrase can mean. I wish that boy who caused Eric to take his life knew that.

I now wear Eric's dog tag necklace that bears our final face-to-face quote: "Never look down on anyone unless you are helping them up." It is a constant reminder of my vow to help others. But most of all, it's a reminder of my brother.

R.I.P., Eric.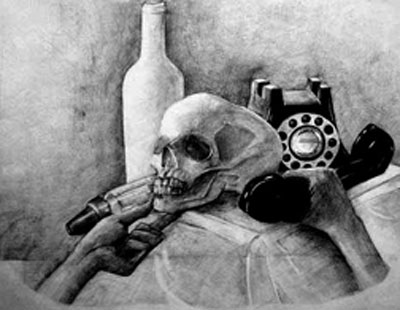 © Xiao H., Naperville, IL