Magma
March 20, 2013
People are like the floating pieces of Earth's crust. They float atop a delicate bed of magma, slip through miniscule cracks and crevices, and end up mangling themselves and those around them in the very end. They also slyly slink under each other, causing an abrupt but unrealized suicide. With their death, unlike people, they are presented with the radiant gift of rebirth.

We don't get physical rebirth. But, if we so choose, we can whisk our old selves into the magma wishing well, and hope that a new and improved person can bound out aimlessly.

The trip to our wishing well, however, isn't always a nice family road trip to a cute little town.

It is simply not.

Instead, it is accompanied with burns and scars that grimly embellish your body forever.

Many trips into the boiling magma of mental rebirth began with bullying.

Imagine you're a tectonic plate, floating upon Earth's fragile magma bed. You've been scratched and gently filed away a few times, but nothing too drastic.

Suddenly, you're approached by a large, menacing plate. This plate has approached you before, and his arrival was not followed by a pleasant experience. You have no choice but to cower, as you feel that if you stand up to the overpowering plate, your torture will be worse.

This plate is hollow.

This plate lacks logical reasoning.

It lacks a reason at all.

This plate is less dense than you.

It is merely full of hot air.

But your protesting mind listens to its commands nonetheless, and you're pushed down into the magma-filled pit simply because you're more dense.

This density is your wits, your intellectual power. The top plate, the bully, forced you under in the midst of jealousy and anger.

The magma that you're obligated into is essentially the wrath of bullying. You feel impeccable pain as you are twisted,

turned,


pulled,



pushed,




pressured,





heated,






stung,


...until you find yourself above it all.

You're a new person, reshaped by the barbaric chisels of bullying.

On top of that, you've become even better than before, a volcano on our metaphorical Earth.

You grow in size, due to simple science and your new-found confidence.

Most of all, you're living and better than before.



No longer a victim, you've transformed into a victor.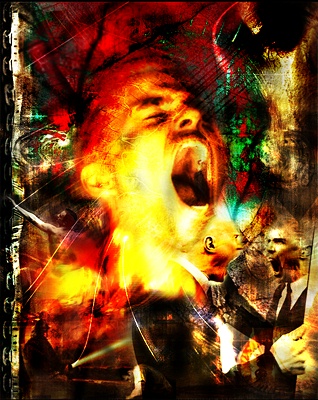 © Mark P. Woodside, NY