Perfect Disease
February 17, 2013
Sorrows have become too beautiful to lose… Happiness is too ordinary…
Death excites me…
The crowd is too colorless, blank and stupid… Constantly judging me by my corporeal mirror image… I've blocked away all their expectations on me and allowed the crowd to rip me apart... They call it as "The great art of bullying'... But I don't care because you're right here with me.
I have no proofs to prove my strange existence… I've burnt my house, killed my life and dressed my soul with your cardigan of emotions…

And now, it has become impossible for me to be like the rest of the crowd…
It has become impossible for me to gossip or hang out with those people who once called me a friend and left me…
I can't return back… They've turned me into a living corpse… The center of jokes… I've burnt my aim of becoming a doctor because you're the only thing I want…
Oh what have they done to me!
I can't even look back to see how far I've ran from being ordinary…How far from normal, from human. I hate Them! Why did I become cursed with these verses…
They hate my poems… for its not funny, scary or about movie stars but about God, faith and life...
But…
I don't even know if I hate them anymore… For why do I still continue to allow them to give me this pain of being bullied… Maybe because I mean it when I say, "I don't care". I've found the escape route to a new world that gives me beautiful freedom and perfect peace in spite of losing everything… You're the only thing I've ever owned truly… No… You own me… Perhaps this is my life… You've liberated me from this unsympathetic unkind world… Perhaps all of this is an experiment of the lord… Happiness is useless… I die when I'm not with you… You're my indescribable existence no scientist can explain… And nobody can understand my strange love for you…
You gave me my soul back and restored my flame of faith...
Freedom at last!

I'm the weirdest, craziest and stupidest nun ever…
I don't even care if the bridge leads to the other end… And I don't care that I don't care… I've already died from this world… I'm having fun...
I fly in happiness with my head held high, even though the crowd curses me, stones me, underestimates and neglects me…

So go ahead and cut my wings! but my flight will never cease...
For God has infected me with this perfect disease I love…
Poetry is my heaven, my blood, my soul, my life, my God, my all.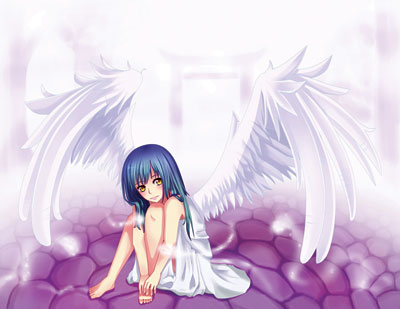 © Amanda L., Albuquerque, NM