London 2012 Olympics
August 9, 2012
The London 2012 Olympics has been an inspiring event, filled with daily doses of spectacular sport and entertainment. I don't think that I have ever watched so much sport! I think that the London Olympics 2012 has inspired a whole nation, bringing us fascination over sports and athletics which, joined in with the Diamond Jubilee, has made 2012 a brilliant year, filled with many events and experiences where the whole world can join in and celebrate.

With an early start to the day (waking up at five, to get ready for the cab to Barkingside station at six), we were drained from excitement by the time we got off at Stratford, but as soon as we got the first sites of the park itself, we were quick to excite.

Surprisingly, queues weren't as bad as they looked and the staff were smartly dressed volunteers who were very friendly and helpful. Security was brilliant, and we had all expected our bags being checked every two minutes, however it was a swift process and the staff made it fun to be there. We got into the actual Olympic park at seven, bought a program for the day and the 'Official Olympics Program' for £15. I'd say that is overpriced, but seeing as this will most likely be the last time we get to see the Olympics in London, we happily bought one.

The first thing we saw was The Orbit. It was larger than expected and absolutely brilliant (See pictures of red sculpture below). We also went to the largest McDonald's in the World after we watched the athletics. At half eight, we got into the actual stadium. Walking up the stairs just outside the stadium, you could see everybody's mouths widen to a perfect 'O' as they got their first glance at the stadium (see pictures), and of course, ours did too. the stadium itself was a lot larger than I had expected, and fit up to 80,000 people in it. We walked to our seats and sat down. What a perfect view! Ten minutes later, some Australians told us that the seats were theirs, and to find we were wrong. So we had to walk up a hell of a lot of stairs all the way to our seats, which were rather good also, so all was well. I can't even begin to explain the atmosphere without using the words phenomenal and euphoric.

Blue Peter and Sky Sports presenter Simon Thomas began the morning Olympics with a countdown, managing to get a whole stadium full of overexcited beings to count down the forever-lasting seconds until the games began. We were lucky enough to watch the athletics, including the high jump, discus, shot put, 4x400m men's relay and the pole vault. Unfortunately, Great Britain wasn't in any part of the men's decathlon however the crowd was so supportive it was like you were supporting everyone. Of course, you could most definitely tell that the GB relay team came on; we all went completely CRAZY. Flags came out and people were screaming, and you just wanted to scream and cry and shout too. Everyone was so indulgent in it; the beginning of the race was silent. The WHOLE stadium was silent. No noise, whatsoever. Literally no one was talking. And as soon as the gun went off to start, the screaming began. Mexican waves were soon to follow. And to be a part of that atmosphere, and that crowd, I must say that I couldn't be happier.

By the time the last event had finished, it was four o'clock and our 'morning' session was over. The actual Olympic park is fantastic; each arena and stadium has a completely different and modern design, and they are all so beautiful. Entertainment was on and you could sit in the park and listen, which had a very similar atmosphere to a folk festival. You can walk around the large gardens, near a river and a man-made waterfall which was falling lightly from a bridge. The whole thing was brilliant. Everyone was so excited and just happy to be there, and nothing ruined the day at all. Although, after a lot of walking around, my feet were sore and because of the perfect hot weather, jeans weren't a good idea. Either way, London 2012 Olympics was set in the perfect venue with a phenomenal atmosphere. Nothing could be more brilliant.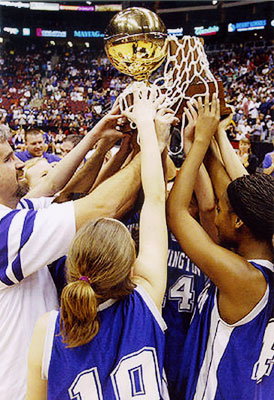 © Mark A., Phoenix, AZ