Phil's Valentine
October 14, 2014
It was a blurry morning, filled with sweet flower aromas, and still some nooks were quite dark and disconsolate.  Chirping birds were the only ones who disturbed the deadly silence.  Phil was lying soulless.  Surroundings felt callous.
Floor was covered with blood.
"Ah!  My head, this blood!  Where is Ashley?  Oh god! Where is she?"-Phil chuntered painfully.  I don't know where she is. Is she fine?
"I am coming, I will come, and I will not let you die.  Phil was feeling too feverish; he had lost his physical strength.  He could not even gather the strength to rise up.  Although, he knew he has to fight for his love.  He somehow rose up.
The entire thresholds were locked.  He had no way out. He was stumbling-What to do, how to get out?  He saw a metal rod behind the broken furniture. But it was of no use, there were no windows which could be broken to get out.
He had entered from the behind door but was caught and beaten up brutally.  He felt a bit of nausea.  He had no water to drink, no place to roam around.  He had no time. He has to get out anyway, by any trick.  He felt a gush of air coming in the room. He felt cold.
He was now in the state of ebullition. He could get out now.  "There is a way in, so there has to be way out"- he thought excitedly.  He knew this nook has to be a wooden door that may be a way out, a way towards his love.  He knew that Ashley's father will never let him marry her.
He knew he was born for her.  She was his most beloved.  He was poor; it was once in a blue moon when they met in their childhood, but whenever they met, the smile on both of their face justified the true bond of love between them.
He used all of his adrenaline to give a hard blow on the wooden door.  His happiness had no end. He was out of the prison.  He could save her love now.  He could prove her father that he loved his daughter the most, but again the question was where she is?  Was she killed, is she bagging for help, for life, for him.  He remembered that when he was fighting with those ugly giant people.  One of them had called to take her Arcadia.
If she was there, how would he reach there soon?  How?  The road was again deadly silent.  No vehicles.  No medium to get there.  He has to run for at least 2miles; he has to take a taxi. He had no energy to run, but he has to.  He has to save Ashley; he has to prove himself the best life partner for Ashley.  He knew he would never stop, he may kill himself but he may never let Ashley die.  She was his only world left.  He had no parents to care after, also had no friend to chat with.  After all Ashley was his only world left. His parents left him when was a mere teenager, he had no experience how to earn the money and slowly his all property that his father had built vanished away.  He grew poor and poorer, and slowly Ashley's father grew hating Phil for his in ability to maintain the huge empire that his father had built.   He lost his extravagant bungalow and came on road, but Ashley's father being his father's best friend gave him a small cottage so that he could at least live a bit peacefully.
It was 21st December when it came into light that his parents were murdered brutally at Sent Halos Park and the whole situation was made as if they died in a car accident.  A witness named Hughes told Phil that he saw his father being killed by Abram, one of his father's greatest competitors.  He told restlessly that Abram with his giant men firstly choked his parent's throat and putted the knife in their mouth to completely block the entrance of air.  He told him calmly that his parent's died of suffocation when the most beautiful breeze was passing through their country.  He told they were yelling to leave their child, their hero Phil.  Abram impelled Ashley's father to sign a contract with his company and become his business partner.  Later on when he tried to support Phil, Abram told that if he ever supported Phil, he will kill him.   He suggested him to take away Ashley from Phil's sight as he knew that he loves him. He tried to obliterate Phil's love bond with Ashley.
Phil's heart knew that Ashley's father never hated him; he just showed him off that he hates him.  Phil was damn sure that he loves him and wants to marry his daughter with him.  But it was just his destiny, bad kismet that never allowed him to conceal this love and his will.  Abram wanted Ashley as his daughter in law so that Ashley's father never breaks his business contract with his company; he may flourish with success for ever, and if he did so then may have a chance to impel him not to do so.
Phil was in Arcadia now; he had hired a good driver who agreed to leave him in Arcadia without any tip.  He knew that Abram's bungalow was just a few meters away and he need to be careful.  His actions must be hideous, he shouldn't be seen. He has to save Ashley.  He saw Ashley's father tied with the pillar.  They had an eye contact, and Phil assured him that he will save him and his love.  He will never let them die.   He tried to ask where Ashley may be, but it was not a foggy evening. The men were surrounding him, and so he does not make any emotions on his face that may set a suspicion in the giant's mind that Phil has reached here. He only made Phil assure that Ashley was fine. Phil ran to search Ashley on the first floor as fast as possible.
He searched all the rooms hiding from the giants but he couldn't find her.  His mind was full of anxious thoughts, where is she? He has to seek for his vengeance, he has to kill Abram for his bad deeds, he has to give him a better destiny than he deserved.
He felt some crying on the next floor.  It was Ashley. His heart was thundering now.   Ashley is safe, and alive; his love is calling him
"Phil, where are you?  These men are killing your love.  They are scaring me to death!  Phil I love you"- Ashley squalled.
Phil made sure that each man must die today.  They had kidnapped Ashley, and tried to annoy him.  Abram has startled the quest, and it was time for Phil to finish it in style.  He ran upstairs to save Ashley, but he had no stores of energy that may boost his actions to save Ashley.  He cannot let Abram beat him again.  Phil was a man who was serious in his own way.  He never let the anxiety to fully govern his motives.  He steals the breakfast that was lying on the table and throws a bit toward the dog so that giants may consider that the dog must have eaten the food.  Phil was ready now.  It was the first time when he will seek for his vengeance.
Phil entered the room in style, and banged the door with one kick. Every man ran towards Phil to kill him, but today he wasn't a little boy who could be beaten up so easily.  His eyes were sparkling to wrath to seek the vengeance.  His each motive was full of rage.  He used every space of the room to beat the giants badly.  His karate steps were guiding him the correct way to kill them.  After a brutal fight of 15 minutes he killed them all, and filled his pockets with weapons.  He knew that it wouldn't be easier to kill Abram, with the fact that he would be surrounded with men armed with rifles, machine guns, and everyone knew that Abram loved rifles and is at expert at shooting.
He freed Ashley from chains and she hugged him tightly.  Intense loving emotions and true bond on relationship filled the room and made the surrounding to sing.
"You know Phil how much I feared when you were fighting.  I was praying for your life" - Ashley told him lovingly.
"I know Ashley, I was dying without you, and I did not know if you were killed.  Also I did not even know what I would have done with myself if you were; I love you very much and today I truly revealed it to you"- he replied with equal emotions
"Ashley, you have to hide at a very safe nook, come with me, there. I am going to free your dad now and when I am done please without caring me you have to leave this place very soon, I promise we will meet again."
"But Phil...??"
"No Ashley, please understand me.  If something happens to you, I will never be able to forgive.  I cannot save my parents, I cannot make any friends and today I don't want to lose you."
"Okay Phil, but I am coming with you.   God is with us, and I will pray for your life.  We will meet again, Phil, I can feel it in my heart."
Both moved out and to reach where Phil had seen Ashley's father. There were no men now; he thought everyone was out trying to find him. He freed her father and calls them to run away from there.
Abram had seen them.  He called his them not to let them go away, but they were quick and early.  His men started firing upon him and Phil in return hided at a very good nook.  His anxieties were over, he had no fears left. He can now seek for his vengeance that will end this quest for ever. Although Abram was an excellent shooter but he had committed a blunder this time. Phil taking the advantage of his innocence fired upon his men and killed them all in one blow. Abram tried to run away with the car but Phil fired on his car bursts the tires. Abram had no choice but to kill himself. Abram was dead. It was night now. He had killed his foe. His vengeance was over.
He took one of the cars standing there and reached the Ashley's house. Her father was looking intensely depressed. His emotions were clear. He was praying for Phil. It was a long time after he had called Ashley's dad his father in law.
"Father, your son in law is back!"
Hearing this, he rose quickly and hugged him tightly.
Phil, after your father's death I tried a lot to support you, but I never got a chance to prove it. I cared for you even though I was impelled by Abram to show you that I hate you.  But the truth is something else.
I know that truth father.  I had seen you weeping for me, days and nights.  I felt the tears in your eyes when you scolded me. I saw how you felt when I fell down in your garden; your hands on my head always consoled me.  Your affection was always clear, even though you tried not to show.  I remembered every bit of love that you offered me when my parents were alive.  My heart knew the truth already.  You don't have to reveal it.  Your emotions were always clear as white milk spread on the floor.  Abram gave you a sad atmosphere to live in, so if killed him.  I know you love me and I beg you to give your daughter's hand to me.  I will care her a lot.  I will never a single tear to come in her eyes.
I Agree Phil.  I agree with you, and I am sure you will keep your words true as they are.
"Thank you dad, thank you.  This is the most beautiful gift that you have ever given me."  Ashley said pleasantly.
"Hey you dude!  Are the entire things okay?"
Yes sir they are as they have to be.
"You need not to say a word more.  Answer me whatever I ask with just YES and NO!"
"Yes sir!"  I understood.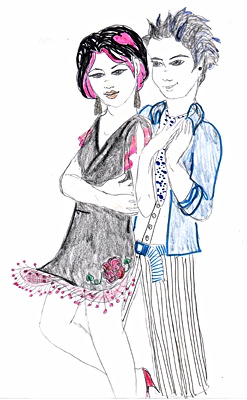 © Liza M., Vineland, NJ