Good in Red
December 8, 2013
You look good in red.
Blood dripped from her knife.
"Mommy." Her voice trailed off. The boy's body was sprawled across the white rug. Blood poured from a stab wound to his heart. A soft ring came from her skirt pocket.
"Hello?" The knife clattered to the ground.
"Are you okay?" The voice was rushed.
"Yes, of course." The girl smiled as she wiped the blood from her hands onto her shirt. "I'm always alright."
"Ok, just checking." The voice thickened. "I saw your posts online. You seemed kind of sad. See you tomorrow."
The line went dead. She put down her phone and stared at the home screen.
"I'm sorry Mom. I'm sorry R." She wore a red sweater next to a woman with black hair and a girl with brown hair.
9.1.1.
"Hello 911, what is your emergency?" The female voice soothed her ache.
"I just killed someone."
"How did you do it?"
"Stabbed."
"With what?"
"A kitchen knife."
"When was this?"
"Just now."
"Are you still there?"
"Yes."
"Are you sure he's dead?"
"I'm sure."
"Where are you?" She told them her address. "Officers will be there shortly. Please take a deep breath."
She let the cold air fill her lungs and looked at her shirt.
You look good in red.
She smiled as she heard her door being knocked down. She immediately dropped her phone and put her hands behind her back. The officers slapped the handcuffs on her small wrists and helped her stand.
"You're going to be alright." An officer tried to calm her.
"I wish I could have killed myself instead." They took her to their awaiting vehicle. "You're not going to ask why I did it?"
"No." One officer coughed. "That's for later."
She snorted with laughter, then looked one dead in the eye.
"Don't I look good in red?"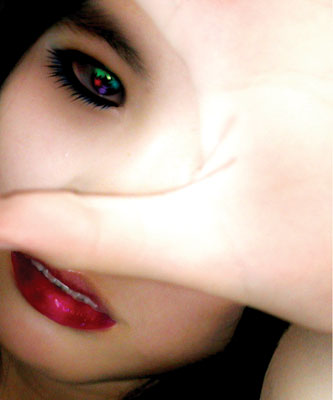 © Victoria W., Arcadia, CA