Beckon, Poor Soul
October 13, 2013
The melody of a faint trumpet flowed into the room. The resonance mellowed the static and miserable walls; it added a succulent texture to the featureless hardwood floor. The polish gleamed with a reflection of the music. Notes ruffled such muted air, crossing bleeding and disjointed synapses while shattering such beautiful uniformity in the face of bellowing devastation.

Melodic bliss was gracious to Sadie, for she could believe all there was to feel in the wildest compulsions of music, of soul. Through her supple tears, she hummed along to the unknown allure by the pure spontaneity of viable breaths in and out, in and out. Rise to fall, it was all expected, nothing manifested into astonishment. Sadie was overcome with faithful grief, a belief that absolution blossomed through the seductive gravity of retribution fed the pale hums. Air could do nothing to Sadie: sustenance broke her back before, it rendered itself faceless in the eyes of quaking anguish. She could not dabble with the victuals of vitality the way she used to.

She took a long

breath.

The trumpet's refrain shifted further into the unfamiliar that halted Sadie's hums.

"Can it sing again for me?" she asked through the gloss of her tears. Breathing was painfully difficult for Sadie: air came in ephemeral scraps as her body trembled to suck it in and unwound to release it. Her insides were numb and brooding, synchronized with the gasps of ether and melodic harmony. The world was beginning for Sadie as it diffused across the putrid ignorance of her psyche. She wanted nothing more than to hear the music clearly.

"Who is outside, mother?" Sadie coveted an answer.

"My sweet, there's nothing more than there was yesterday." Sadie's mother scratched the polished floor, warping the melody.

"Mother, I cannot hear the music clearly." Sadie's tone was bare, expressing every sentiment of sorrow and the whole of bitter apathy.

Moments of silence stilled the pain.

"I was everything, mother. I had found my heartland, my truth."

"Sadie, you cannot find truth until you dare to approach the glory of a myth."

Sadie's tears verged on the cusp of flight into fallacy. They sloshed back and forth against the thinnest of membranes that concealed her ugly perception.

"I can't live like this, I just can't, mother. Walled up in here with the tease of beauty right outside. It impales me! Such beautiful music...is harrowing. I feel so much sometimes that all feelings lose meaning to me." Sadie rose from the steel couch and conformed to the creased corner, the only barrier separating her from the bewitching mystique on the other side. Her cheek pressed up against the cement, pressing her tears through the absorbent barricade. "Oh. This is what it feels to be nothing. The shame is beautiful, mother."

Sadie's mother turned away from her, disgusted.

This is what has become of my daughter, she thought to herself. Every impulse and scrap of humanity ached within her.

"Sadie," she whispered.

Sadie's cries intensified and quaked the solid block of desecration. She recoiled further into the corner, screaming with nothing left to breathe. The enticing sounds of the trumpet bent; the notes were divided until the music was drowned in horrid screeches of stomping fury and heartache. The trumpeter began to cry through his music, quivering his notes with a touching and irresolute sadness not even Sadie's mother could withstand.

"I cannot stand to watch you live like this, my darling sweet!" her mother cried out. "This is misery at it's finest, my God! Do you see what you have done to yourself you wretched girl! Open your eyes for once and see that your heart has been mended by such sorrow! My heart has broken for you, and you have stolen all of my devotion."

"You...can't hear the...music either, can you?" Sadie beamed back at her mother.

Sadie's mother paused.

"This melody you hear, it's your heartbeat, my dear. The pounding of transient beauty and grotesque torment."

Sadie gave her mother a look of absolute horror. Her eyelids came so far apart her tears expanded over her eyes, glossing her view.

"I can't feel my heartbeat, mother."

"I never gave you one, my dear," her mother ruefully explained. She watched as her words brought Sadie back to despair. Her mother turned away once more, staring up at the ceiling hoping for rays of sunlight to burn through her eyes and destroy all perception. All her mother wanted was to hear the despondent tune surfacing from the gleaming golden trumpet outside the placating walls.

"How can I hate everything that makes such a beautiful sound? I have nowhere to go, mother. Nowhere."

"The sound is erroneous, dear. Just listen to the trumpet."

Sadie's tear filled eyes imagined the heartland of serenity. The melody of the trumpet soared beyond the sky that squandered its beings. Absolution reverberated off of the kindred mountains, beckoning Sadie further into the lurid brilliance of what she had come to know about bliss. There was no need to feel here—one only had to breathe.

Sadie's soul was guided by that trumpet, by the inexplicable fascination that continues to ebb into such a sensational melodic obsidian.

All we have is a song that beckons us to cold, fresh ground.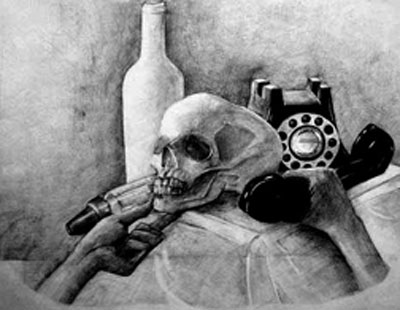 © Xiao H., Naperville, IL