Hidden
April 26, 2012
Most children hide from the Darkness. It is a place that holds monsters and villains, bad dreams. But he shies away from the Light. Unwilling to grow up, ignorant and immature, his life is hidden behind a veil of black. Feelings are foreign to him and emotions make you weak. Adventure and the adrenaline that accompanies it is the only thing that makes him feel. Death is considered the biggest adventure of all, and he would gratefully choose that instead of growing up.
To grow up would mean to give up on life itself, forget fun and excitement. It would mean working in a cage all day, going home to sleep a few measly hours before beginning the cycle again.
No, to grow up would be a fate worse than death. And so the child afraid of the Light emerges only with the accompaniment of Darkness, to hide from all, be seen by none.
And so that shall remain. Never will the child grow old, never will he be forced to live out his miserable life. No, instead he lives in a world full of muted feelings and dazed expressions. And so it shall remain, forever and all eternity.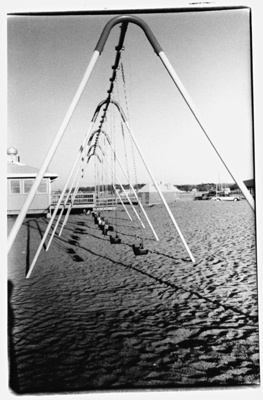 © Gina M., Marblehead, MA