The Enigmatic Cause
December 9, 2011
The apartment was a mess; and it should have been: for a murder just took place inside it. Thankfully, there was no blood (I can't stand looking at it!). The victim died of forced suffocation, the autopsy had revealed.
It was a two-room apartment with a kitchen and a bathroom. By the look of it, one could easily conclude that the owner didn't care about it: the beds were dirty and undone, the kitchen sink was full of untidy cutlery, the clothes were lying all over the other bedroom and the study table was full of dust.
"Detective," the cop called me from behind, "did you get the basics on the call?"
What a question! Why else was I here?!
"Yes," I sighed, trying hard not to blow up. "The man was found dead on his bed at 14:45 this noon, ten minutes after his usual return-from-job time. The police was informed by a friend of his at probably 14:52 and it arrived twelve minutes after. No evidence, clues, handprints or weapon of any kind was discovered and that is why… you called me. This is it, then isn't it?"
The cop looked a little taken aback. "Yes sir, this is it."
The place didn't look right. It had some kind of a cold era around it. "Hmm." I nodded, and re-entered the bedroom.
The briefcase was on the floor, the tie on the table accompanied by a pen container, a diary and a sealed mineral water bottle. This man must have been eager to go to bed for his shoes were lying in front of the door too. All was done in a hurry, I realized.
"Where is he, his friend?" I asked.
"He just left," the cop answered, "and so did the forensics team."
"What did you ask him?"
"He was aggrieved, sir, crying all the time like a child. We asked him questions about his arrival to which he answered that he came daily at this time and had lunch with the man. He also said that they were best friends. We asked him all kinds of questions and… in short, he is innocent." The cop explained.
"Okay," Of course he was innocent. "You can go now… have some rest."
"Thank you, Sir. You sure you'll be fine all alone?" he added sympathetically.
"More than sure" I replied with a gentle smile.
He nodded and left the room and soon, I heard the main door being closed.
I sat on the bed and thought. No clues, no blood. Either the killer was too expert in his methods or the killer was nowhere at all. It could have been a suicide. But no, no pills or injections or ropes were found and hence the forensics team declared suffocation as the cause. What bothered me was that there was no evidence of forced suffocation as well!
I was thirsty. So I reached for the bottle which was on the table. While picking it, I looked at the diary again. Interested, I picked it and opened it up. On the first page it was written:

"My personal Diary"
Out of eagerness, I shuffled through the pages to find the recent most addition. While searching, I noticed that the accounts were rhymed: he must have been into poetry. Nevertheless, I found the last post. It read:

"December 14th 2007
14:40
The day in the office was so busy
I feel so tired, I feel so dizzy
I pull my tie off and head straight to bed
There's a note lying there, waiting to be read
It goes "honey I'll be late as you know that it's Wed
But don't you worry; I'll be there just as I said
Imma finish my work soon and try to come early instead
And oh, tonight I want you to wear some lovely reds"
What??
The letter explained my situation
But it was definitely not my narration
Shrugging absent-mindedly I put the note on table
Thinking all the time who was behind all this fable
Just then, I heard someone knock
It was my girl standing, wearing a red frock
I was flabbergasted, "is it real?" I thought
My mind was kind of frozen; I was unable make a lot
She came to me and just grabbed my hand
Whispered "I love you" and dragged me into a dreamland"

Dragged me into a dreamland? I was puzzled, so I turned few pages back to read more. A few pages behind, I was in October… this guy didn't write too much I understood. The text was:

"October 23rd 2007 17:15
Girl listen to me I wanna talk
I know that you came with a plot
Hey why not we two take a walk
Oh no you don't say no today
If I wanna talk then I'll talk... Oh yeah!
Now listen, you just came for money, right?
Callin me darlin' and sneaking out with jimmy, right?
I aint sweet to you I guess, you were calling my gold honey, right?
And it hurts that all this to you is so damn funny, right?
Remember the night when you came to me and cried
Asking for another chance, another life
You know what? I was stupid!
I said okay, when it was "no" which was right
And I can also rem.... Hey! Where you goin! Come back!
Resistance is what I totally lack
Alright, now don't cry, go home and unpack
yeah that's like a good girl... Oh my God!
There's a car honey... Watch your back!!!
Hey pull the brakes man...
Nooooooo...! ... . *car crashes* "
So he lost his lover in a car crash and two months later, found a new one. He was one hell of a playboy! By the way, I was loving his narration through rhymes. It felt as if all was happening in front of my eyes.
I turned one page ahead and examined the rhymes:

"November 30th 2007 22: 55
I was listening to dead and gone and you came in my mind
Baby it's true that a girl like you I could not find
Yeah... remember all the fun we used to make?
But now with you gone, even a smile I cannot fake!
Yeah. It was all going so great
And our engagement putting a cherry on the cake
But then I shouted at you... the biggest mistake!
You know I know that that assault
Could never have happened if it wasn't my fault
and now I feel so much alone
Beside your dead body I sit and I mourn
Baby if you were alive, would you trust me?
Now that I'm honest as one can be!
Would you hold my hand and then hug me?
And we could rule the world, now just we
Girl I can't take this anymore... I wanna meet
You know if that was possible, it'd be so sweet
Baby just me and you all night
Can you give me this treat?"
That was it. All was here. And I needed to get out of this place… now!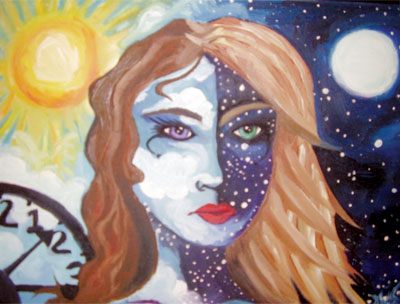 © Amanda S., Attleboro, MA