Ghostly
September 22, 2011
There she is, staring at something on the bed. I want to cry, but the tears won't come. I yell for her, but she doesn't hear. My hand reaches instictivly to caress her face, her frecles pale under her untidy red hair.
She stirs at my touch, but I can tel that she feels only a breeze. My hand slips through her head, and I shake my head in confusion. What is going on? She's holding a worn photograph of two girls laughing on a summer day. I feel an odd connection to it, but it's fuzzy, like deja vu.
"Aly!" I yell her name over and over again as tears stream down her face, her smoth hand grappling at the thing under the sheets. "God, Aly! I'm here!" I shout and wave my arms but she doesn't see me. I can still remember her hands on my chest as I lay there on the kitchen floor, her agonized screams as she realized what had happened. I remember her fiercly pounding my back, trying to delay the inevitable.
I sob without tears, without feeling. I can't touch her. I'm gone, gone from this world. I stre under the sheet, and then flinch away. The body is my own, but not my own, the hair combed just so like Aly never would have wanted it.
I feel a pull toward it. I try to fight, but the air resists my efforts, and the coffin lid slams shut, offering me one more glance of Aly's horrified face.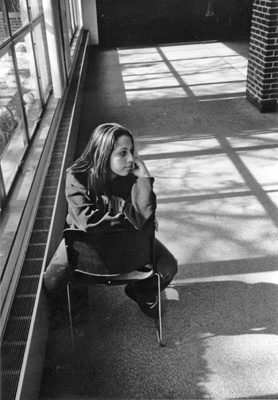 © Leighann E., Westport, MA