Beauty Is Everywhere
July 9, 2011
Heather watched as rain drop after rain drop plodded softly onto the window sill. Grey clouds rolled over head, leaving behind only puddles to prove they had been there. Nobody was surprised of this sudden outburst of rain; it was just another showery day in their old, minuscule town.
Getting up off the couch, Heather hobbled over to the front door. Her warm hand on the doorknob, she turned and took a step outside. Moist air surrounded her at once, and a strong scent of pine trees, cigarettes, and paint greeted her. She turned to see someone painting a tree, lighted cigarette dangling from his mouth.
It was strange seeing someone smoke in this town, cigarettes weren't even sold in the stores. The nearest place to get them was more that 200 miles away, only the occasional person passing through lit up as they went.
"You know that's not healthy," Heather stated, limping over to the man, "it will kill your lungs." He turned; brush ladled with paint in hand, and gave her the toothiest grin she had ever seen.
"I know," he said, turning back to his work, "but why should I care?" Brushing the bristles against the rough bark, he left one single diagonal line on the rotting tree in a bright red color. He sprinted to the river, rinsed the brush, and headed back again, dipping the brush into a different can of paint.
"What are you doing?" Heather asked, watching him make another tilted line, across from the other. He didn't answer, just stopped and looked at his mark. Holding the brush to his side, slow drops of neon pink paint spotted the ground below.
"I'm leaving my mark in this awful world," he mumbled, nodding at his work and running back to the river to rinse the brush again. Heather plopped onto the grass and watched him soak the brush in yet another can of paint.
Working in silence, the man painted two connected curved lines at the top of the two slanted ones in an electric green color. Heather studied the heart that had just been painted on the withering tree. He was leaving his mark, in his own unique way.
Grabbing a smaller brush, he painted a thin line running across the heart in a blood red color. Stepping back, he smiled in approval of his work and sat down.
"So," he began, "why do you limp when you walk?" I sighed, looking down at my leg. I explained that when I was little, my leg had been crushed under a huge tree that had fallen while I was playing in the woods. The bones didn't recover properly, causing me to have this dreadful limp. Once I was finished, he nodded and snarled, "Life sucks."
"I told you my story," Heather said, looking straight into his dark, brown eyes, "now you have to tell me yours." He looked down at his lap, splattered with the different colors of paint he had used to paint the symbol.
"I have cancer," he whispered, "the doctors told me I was going to die in a couple months, so I checked out and tried to make the best of these last minutes I have. I went around the world, trying to find the most gorgeous places I could. When I found someplace that made me gasp with the magnificence of it, I would paint my heart to symbolize me living on." A single hot tear ran down his face as he spoke, Heather fought back tears of her own.
"What made you want to paint your heart here?" she asked, "This place is old and rundown, not beautiful." He looked up, Heather could see the long red streak on his right cheek, and beamed at her.
"This place," he began, "is the most glorious place I have seen on my entire journey. The whole simplicity just makes the entire town glow with pride, and it being run down gives a unique meaning to beautiful." Hearing all this, Heather studied her town with new eyes. It did have a weird loveliness about it, how the broken windows caught the sunlight, and the puddles reflecting the dim rainbow stretched across the dull sky.
"Wow," Heather gasped, "you were right, this place is magical." She turned to the man, but he was gone. The only thing left was a small locket on the ground. Picking it up, she opened the heart and inside was a picture of him, smiling, with a paintbrush soaked in all different colors in his hand. She grasped the necklace tight in her hand, and grinned up at the painted heart on the tree...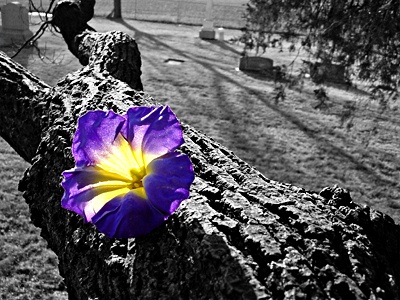 © Greg K., New Lenox, IL