Predator or Prey?
July 2, 2011
"What does this name mean to you?" The man in a black suit and tie asked. He handed a crumbled up piece of paper to
Jonathan and glanced at the other man, who cut the restraint that bound Jonathan's wrists together. Jonathan wiggled uncomfortably in the chair he was duct taped to, try to reach the paper. When he finally got it, he unfolded it. In blurred, almost illegible, handwriting the sheet read; Amy Walters: 555-678-2914
His eyes widened when he read the name, but quickly blinked it away as he was being watched, skeptically.
"It means nothing." Jonathan's voice wavered as he threw the paper onto the already dirty, black, tile floor.
"He lies!" exclaimed the first man. He waves his hand and his dogs-man immediately bound Jonathan's hands once more.
"Tell the truth, boy it you want to keep your life." growled the man in charge.
"Never!" Jonathan spat on the man's shoes. That did the trick. The man lunged at Jonathan, causing the chair he sat in to topple backwards. The man placed a silver blade against Jonathan's throat, drawing a bit of crimson blood.
"Killing me won't give you answers; only leave you even more clueless." Jonathan said, seemingly calm and cool. At that the man stood up, grabbed the other man's arm and stormed out the room, shutting and locking the door behind him. Leaving Jonathan lying backwards in the chair to think about and accept the fate he had given himself.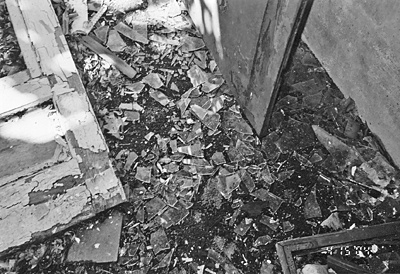 © Gary C., Pequannock, NJ