Forever Young
November 14, 2010
"Her laughter broke the silence," the man told the police. "and then I saw it."


I wish that we could all be young. It is nice to be naïve and ignorant of the evil that endlessly haunts the Earth. I wish that we could live in a perfect world where we still laugh and wish. Yet, I realized then as I drove to the girl's funeral, that we do not. I used to envy the little girl, but now that she's gone… well let's just say revenge is bliss. So if the world can't be perfect, why should I try to be? I guess that's why it happened. And maybe that is why I am the only one who appreciates the delicious fragility of this travesty.


"What did you see?" The man questioning Layla's father was fat and even though he tried to lean over the table, his stomach just wouldn't allow him to. His mustache was huge and he stroked it with each question.

"Sh-She held a knife in one hand and a headless doll in the other."


Hope is always there, oddly enough, because hope vibrates deep inside our souls. That is why I had the knife. I needed to rid them of any hope they still carried. But then there is love too. Love hesitates to reveal itself. I've never loved anyone, but I did feel something as I tied the blue ribbon in such a foolish way- a bow on my ponytail. I guess it felt silly as before I was 53, but that night I was eight years old.


"Who? Who was it?" The policemen was getting anxious, he'd been told the same thing by all the other funeral-goers and they weren't getting much of a lead.

"She was an old woman, probably in her early fifties." The father paused to wipe the tears out of his eyes before continuing. "She had on a child's dress, one I clearly remember buying for my daughter."


I had smiled so brightly as I skipped down the halls of the building, humming the song Layla had that night as she sat on a swing in the park. My dress was so gorgeous and it looked so much better on me then her. The night of the funeral, I was Layla, a picture of beauty and youth. No one could stop me, for I was in my perfect world for a couple seconds.

"She had visible veins and sagging skin. She almost looked sickly because of her pallor. She was short- probably 5 foot tall exactly- and was quite petite. That was most likely why she could fit into children's clothing. Then there was her hair."

"What was wrong with it?"

"Well it was pulled into a rather high pony and there was a ribbon tied into a bow in it."

"So what?" The fat man was getting angry. He didn't care about small details like this. They were insignificant. They needed to find the killer, now.

"So, it was Layla's ribbon! It was the one someone had used to choke her to death! That woman killed my daughter! And she stabbed her dead corpse at the funeral twenty-four times!"


I remember leaning over the coffin to look into her unopened eyes and speaking to her. "Oh Layla, sweet child, remember what I told you that day? No? Revenge, my dear, is bliss." I stabbed her. I don't know how many times but my body wouldn't let go. It wouldn't stop until their hope was gone. It wouldn't stop until that little girl on the swing had no love. But now, I rot in jail. I share a cell with some old woman. She gives me looks whenever I try to fix my ribbon in the mirror. I guess she just envies me because I'll be forever young.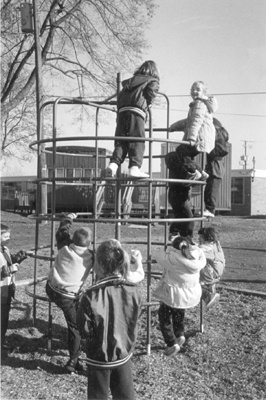 © Danielle H., Jonestown, PA