Janie's House
November 4, 2010
My life.
My life was pretty good until Janie stepped in.
Oh, Janie. She thought she was the ONLY girl who had a life, a family, friends or happiness.
And let me tell you this, she had NONE of those.
Oh, yes, we were best friends in 1st grade. We went to each other's houses, rode the bus together, even met up after school outside the shed.
Whenever I went to her house, the options of where to hang out were outside or in the car. That's it.
She didn't want me to see what went on inside…
Mom walked out right after she got out of the hospital. Dad's an alcoholic. Brother's in a gang. Sister got shot by a member of her own brother's gang.
I found it out two years ago…in sixth grade.
I was walking home, and I heard a crash.
It came from Janie's house.
I looked across the street and saw what had happened through the door, which had been propped open.
I saw a bottle being flung across the room.
At Janie.
I was shocked. I froze where I was and was trying to think of what to do.
Do I call the police?
Go over there and stop it?
Go home…and say nothing?
Yes. That's just what I did. And when Janie didn't come to school the next day, or the day after that, or the day after that… I started getting a little worried.
We hadn't been REAL friends for about 5 years already, but we just lived close to each other.
One week after that incident, I was walking home and I saw her house.
Unpainted. Empty. Dark. Broken. Abandoned.
I had her cell phone number and called it…
Ring ring. Ring ring.
I heard a phone start ringing, and it was coming from her house.
I walked up to her old home, tears filling my eyes, and stepped inside.
In the middle of the floor was Janie's phone…and a note attached to it.
I bent down, sobbing, and picked up the note. It read:

Della,
I'm not sure if you'll ever read this…but I feel good writing it, so I'll keep going. Remember in first grade? We would walk home together? That was really fun…I wish I could have hugged you one last time before we drifted apart. But I couldn't. You see, the reason that I only let us hang out in the yard or in the car was because…well… I had a pretty messed up life. My dad was an alcoholic…mom left us. My brother's in a gang… and my sister…well, she died. She was shot by a gang member. I never wanted you to think little of me, and that's why I never wanted you to know…but then you found out when my dad threw the bottle at me. I saw you, Della. It's okay, though. You have my phone, my diary, and this letter. My diary is in my room…up the stairs to the right. On my bedside table in the corner. Look, I wish I could stay with you, but the only thing I can say to you now is good-bye. Della, I had a nice run. I had 14 years! 14 years with you. My best friend. I never wanted anything more than that. But I'm gone now. I will never see you again. You told me all your secrets and now you need to know all of mine. In my phone there are all my texts. Also, you have my diary. So, now, Della, I have to say…bye. I love you.
Your best friend,
Janie

I almost cried…no wait, I did.
I ran up the stairs, tears streaming down my face, into her room. As the letter said, her diary was awaiting me on the nightstand.
Another note lay atop it:

Della, I am gone. Not dead but also not alive. I will be with you your whole life. We will meet again, though. I promise it will be soon, too. Love, Janie.

Ever since then I haven't told anyone about that…until today. Ever since I started seeing her ghost I had to be locked up in this mad-house. Geez, when can I stop writing in this journal?!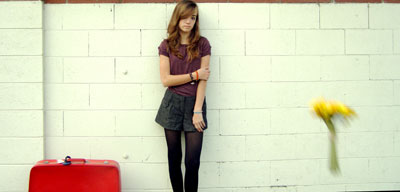 © Austin K., Studio City, CA