Go Away
March 27, 2010
Sweat from my brow slides down my face, and I wipe it away impatiently. Why can't he leave me alone? Ever since that first day, I swear he has been following me, watching me from behind. I still remember that first day…
_____________________________________________________________

"Why are you sitting by yourself?" he asked. I wasn't entirely sure of his name, but I knew he was up to no good. He had long, greasy blonde hair and pants that sagged down to his knees… A skater. "Don't you have any friends?"

"Yeah, but there's no room at the table." I pointed out. I didn't like guys like him. They were always getting arrested or getting detentions-I can't stand those kinds of people!

"Mind if me and my friends sit down?" he gestured toward my empty, pathetic table. I wanted to scream "yes, duh!" at him, but of course I just shrugged. He and his 4 friends sat down around me. "My names Dylan." He said with a crooked smile. Could he sense my unease? "This is Johnny, Max, Darry, and Mike." Each one gave me a brief, sly smile in return.

I finally got up enough courage and named the elephant in the room. "Why are you guys sitting by me? You don't even know me." I said. Hoping they would get the hint that I was fine sitting by myself.

"You looked like you needed a friend." He said with a smirk. Great, now I looked pathetic, and depressing! "Hey, it's almost time to go. Here's something to remember me by." He handed me a red bracelet. I sighed.

I knew what these bracelets meant. They meant I was one of them-I wasn't. I quickly got up when the bell rang and hurried out the door, throwing the bracelet away as I went.

That is how this all started. I'm trying to avoid him, and he is trying to get to me. Every time I see him, he is glaring at me, almost sizing me up in every way possible. Which leaves me with some questions: Does he remember that first day too? Or am I just a familiar face? Should I be scared, or not?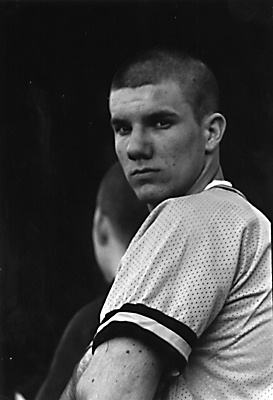 © Chris C., Milford, CT