Bloodshed on Anders Street
January 25, 2010
***
On a stormy night, a college senior was in her Maserati driving home from a fraternity party. What she didn't know was that there was a midnight blue Jaguar following her. Her name was Ecko Anderson.
***
He was obsessed with Ecko. She was his former girlfriend from high school. I will get her back for what she did to me, he thought.
His name is Taylor Richardson. She broke up with him when he loved her with all my heart.
She is a brunette with ocean blue eyes. She is also tall and very popular. She was sweet at one time as well. She broke my heart, and I will kill her for it, he said silently to himself.
He followed her to her condo that night. He still had his spare key to her house that she never took back. Before she even got out of her car, he was out of his and sneaking up to her backdoor behind the hedges. He went in the house and hid in the closet in the hallway. I'm glad she doesn't have that little mutt anymore, he thought to himself.
With that he quieted down, because he heard her coming in the front door. His plan was that he was going to wait until she was fast asleep to leave his surprise. The closet door was open a crack when he came into the house. That was the closest that he could get to the front door.
He knew what she did at night. She gets on the phone for about an hour, then she gets on the Internet to check her MySpace, and then she finally goes to bed. He's got her all figured out.
Ok, ok there she goes, he said silently to himself. She was getting on the phone with April, her best friend. She was talking about how it was a mistake for what she had done. Apparently, April knew what she meant, because Taylor sure didn't. I wonder if she thinks it was a mistake to break up with me in the first place.
She said, "It was a mistake for me to break his heart for some stupid guy. I was wondering, do you think he would take me back? I hope he will. I think I might call him in a little while."
His heart started pounding. My phone is in my left breast pocket of my shirt. The volume is all the way up. I better grab it as quickly as I can and turn it off. He prayed that he would be able to reach it before she called him. I'm reaching! Yes, I made it. It's off! I'd better go.
He quietly slipped unnoticed out of the house and ran back to his car. Once he got back out to his car, he turned his phone back on, waiting for Ecko's call.
Finally, after what felt like forever, his phone rang. He let it ring, and then he answered it on the second ring. "Hello!" he said, trying to sound casual.
"Hi, it's me. I'm sorry to be calling so late. I was wondering if you could come over," Ecko said, sounding worried.
"Yeah, sure! What's the matter? You sound anxious." I repeated the words right out of my head like a little voice was in there telling me to say them.
"No, it's just that I was planning on calling you anyway. But I called you because it looks like somebody has been here. I think somebody broke in, because the window by my back door is broken."

"Hold on, I will be there momentarily. I will speed if I have to. Give me ten minutes, and I will be there."
He turned on his car and drove around the block to give it about five minutes. Then he went speeding down her street. He swerved into her driveway. He was out of the car before it even stopped. He was running up her driveway and calling her name.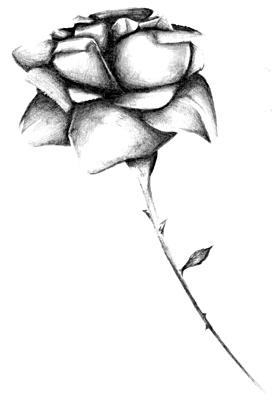 © Yisrawayl G., Philadelphia, PA