I Saw Her
January 21, 2010
I saw her for the first time not too long ago. It was during the winter. I was bored of watching the T.V. and was looking out the window hoping for nice weather to go play outside. It was getting dark out and the weather was dropping and a heavy fog rolled in. The forest was hidden in a misty veil. That's when I saw her. I wasn't sure at first, I thought I only imagined her. A little girl running though the trees. I rubbed my tired eyes and looked again and she was gone. I stayed at the window waiting, hoping I'd see her again. Not long later, sure enough, I saw her again. She was running in the trees, but more of a dancing run. She was skipping and twirling and looked like she was playing. I knew it couldn't be. It was freezing outside and she only had a white dress on. She would get sick if she played out side. I ran to the door. Past my mom and dad sitting at the kitchen table reading their newspapers and drinking decaf coffee. Dad looked up from his paper and called after me "Hey where do you think your going? It's freezing outside!" I yelled back while pulling my boots on "Dad there's a girl outside! I gotta go find her before she gets sick!" "What on earth..." I heard him grumble as he got up from his chair. Just as i pulled on my jacket he was there and grabbed my arm. "What are you talking about there no little girl outside?" "Look I'll show you, she was playing outside!" Me and my dad walked over to the window I saw her in. We looked through and couldn't see anyone, she was gone. My dad said I shouldn't scare him like that and to go take my boots and jacket off. I headed for the closet and heard him go back to his chair telling my mom "It was just some excuse to go play outside." I knew what I saw.

I saw her from a distance but she was just close enough so i could make out details. She looked my age seven or eight. She was almost my height. She had curly brown hair with a blood red ribbon in it. She was wearing a pretty, white, lace dress that looked really old fashioned and now that I think back I don't remember her wearing any shoes. That wasn't even the weirdest thing about her. She was as pale as the snow around her except for her bright blue eyes and blood red lips. She was the prettiest girl I've ever seen. I needed to find her.

I saw her in my dreams that night. Only fleeting images of her but it was her. I got up bright and early. I skipped breakfast and went straight to the closet to get my boots and jacket on. I ran outside and out back to where I saw the girl. There were tracks in the snow! They were faint but there! Following them was tricky though, they danced and swirled around trees and rocks but seemed to go the same way they came. I followed them. They never stopped twirling and dancing around fallen logs and big trees. I must've followed these track for a long time. I was getting tired of walking and I was hungry because I skipped breakfast. Right when i was thinking of turning back I came onto a pool of water. I was a perfect circle and was as still as glass. I've never seen this before. Me and dad came back into the woods often and i've never seen this or even heard of it. It's what I saw in the pool that was the scariest and most exciting thing i've ever seen.

I saw her at the bottom of the pool. She floating freely in the water. Dead. Her arms and legs suspended in the water. Hanging lifelessly. Her hair was floating around her face. It moved out of her face and saw her. Eyes closed, mouth shut perfectly straight. Face smooth and still as white as before. She seemed perfectly at ease. I knew what I was looking at. She was dead. I tried to come out and find her but she was gone I was too late. My eyes teared up and I turned around to run home and tell mom and dad what I found. Then I heard the whisper from behind me toward the pool."Your going?"

I saw her standing there. She was alive and standing there with her head tilted to the side. Her face was exactly as I remembered flaoting in the pool. Perfectly flat with no expression, the only difference was her birght, pale blue eyes were wide open now. I was choked up. I had no idea what I was seeing now. I saw her dead in the icy pool and now here she was standing not even wet anymore. All i could mutter out was "N-n-no." She pasued for a moment then tilted her head straight and her face lit up. Her mouth was smiling now and i could see her perfect white teeth inside. She walked over to me and kissed me on the cheek then took my hand. Her quick kiss felt like ice and her hand felt like she's been outside for a very long time with no gloves. She pulled me along and to my surprise she was very strong. She took a few steps then said stopped and said without looking back "Come play with me now, I've never had a friend before." A big grin was on my face now, this pretty girl was my friend. We ran to a big clearing. It was hard to keep up with her it didn't look like she was running very hard but I was trying my hardest just to keep up. The clearing was very big and in the middle was a big gnarled tree standing all alone. I was staring at this tree i've never seen before when she turned to me and said "My name is Mina, what's yours?" I stuttered again when I tried to speak "D-D-Davey.""I like you Davey, come on" she smiled and pulled me along again to the big tree in the middle of the clearing. We played for hours. I came home really late and walked back with Mina. I asked if she wanted to come in and she just shook her head and gave me a peck on the cheek and said "I'll meet you again tomorrow right here okay?""Alright i'll see you tomorrow, night Mina" She gave me a soft smile and began to dance-run back into the forest.

I saw her one morning not long after I first met her. Playing with her in the big tree. I fell and heard a snap. I felt like I was asleep for a long time. I woke up floating in a pool of water. I quickly swam to the surface and climbed out of the water. I saw it was snowy all around but I wasn't cold at all. In fact when I came out of the water I was completely dry. Spinning around fast, I gazed into the now still surface of the pool and saw my self. I was as pale as snow and my eyes were bright blue now. "Hi Davey" I heard from behind me. I spun back around and saw Mina standing there smiling. She took my hand which was warm now. She leaned forward and gave me a kiss on the lips this time. I was shocked not only at the kiss but she felt warm now. "Your just like me now" she whispered with a smile. I didn't understand what that meant. I do not know what she is. I know she isn't like other girls. We are not like other people. It didn't matter anymore.

I see her everyday now. I love her.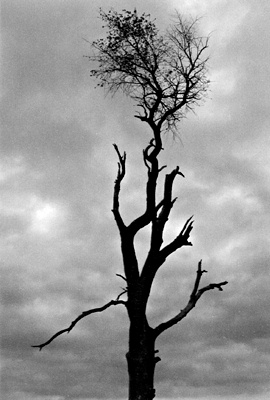 © Cassie H., Carmi, IL