Held Hostage
October 15, 2009
My body sat still and my mind felt overloaded with raging thoughts as the eyes of my captor were upon me. Was I going to live through this day? All I had done was go on a simply innocent trip to visit my grandmother and to get away from my home environment. And now, only thirty minutes into a five hour flight, I had already been dosed with trouble. This time, and probably one of the only times, the trouble was not caused by me.

His eyes were still upon me and I pummeled mine so as to not look at him. Ten minutes ago, no, maybe five, no . . . I peered down at my watch with my pupils, carefully ensuring that I did not move my head one bit. No, it had only been several minutes ago when the captor whispered to me that I had better stay put and to not show any sign that anything had gone wrong. He told me to be quite and if I did anything, yes, even if only one simple thing went wrong, he would take out the gun he had in his pocket and shoot me in the head. He said that I would be dead within minutes.

Sitting beside me, he kept one hand in the pocket of his pants where my would-be murder weapon was, probably to ensure that I was as tense and afraid as could be. I let my pupils wander around and tried my best to use my bifocals to some extent, when he caught me.

"Don't you dare be thinking about a way to get out of this. If I find that you are making any type of plans to escape, I swear I will make you wish you had never boarded this flight!" He kept his voice as low as he could even though I could literally see steam pouring out from his ears. In a flat second I had turned my head to face the window. I watched the never-ending cotton fields drift by and the never ending bluish oceanic sky flutter by and all the while I couldn't help but wonder if I would ever see their beauteous faces again. Something that most people would have never even payed attention to, I saw it as a treasure, a gift, as the last thing on earth I might ever see, but I was grateful that it was something so beautiful.

I swallowed hard as the flight attendant handing out food passed by. I knew I was not allowed to look at her. I knew I would be smothered to bits if I did. But I had to devise a plan, somehow, without my captor catching on, and reveal his secret to everyone aboard the plane.

"Um . . ." I quivered and shook as I tried to speak up.

"Speak quieter!" shot back the man in which came out pretty loud even though his aim was to whisper.

"Um . . ." I began to whisper, as I tried to hold back my shuddering again. I knew I had to think fast. "I-I-I need to go the bathroom." I was trying to remember the way the bathrooms were on other flights I had been on. I hoped there was a flight attendant button or something that I could use to call for help.

The gunman hesitated, but then must have realized the urgency in my voice. I could have probably almost read his thoughts right there, devising a plan of how he was going to get me to the bathroom, there and back, without giving himself away. And he could've probably almost read my thoughts right there, devising a plan of how to escape in such a tiny plane, before getting there or back, without him shooting me away.

"This better not be a trick! I'm going to follow you there and slip into the men's bathroom right next to it. When you are finished and I hear you flush the toilet, you are to meet me outside the door and then I will walk you back to your seat. You are not to look at anybody, talk to anybody, or motion to anybody. Do you understand me?!"

I grimly nodded my head.

"And do you understand what will happen to you if you fail to follow my instructions exactly?"

I grimly nodded my head once again.

"Explain to me again . . ."

I sighed and tried to remain calm. "I will get blown to bits."

The gunman smiled an evil porcelain smile as he once again felt the pocket in which his gun lied, seemingly to stress my following of his instructions with perfection.

"Now get up," he demanded.

Without hesitance I arose from my seat.

"Now walk in front of me and I will be following you very closely so don't you dare mess up."

His attempts to scare me were working, and I slowly squeezed between him and the seat in front of him and descended down the isle. I didn't dare look back, even just to see if he was following me. I faithfully walked robotically to the bathroom and closed the door behind me. Then I heard the men's bathroom door close also. Blood rushed through my veins and my tense muscles grew tenser. I had but a moment to devise a plan to get the gunman in the hands of the authorities without his gun getting me first. I leaned on the bathroom wall ignoring all the pieces of hair and yellow scum lined upon it, and sort of slid until on it until I reached the floor. There, I wrapped my arms around my legs and rested my head there on my lap. I sat there and I thought and I thought and I sat there and I cried and I cried, wondering where I'd be within the next few hours of this flight and how I had gotten myself into such a miserable rut.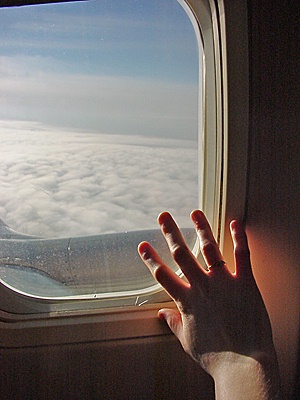 © Greg K., New Lenox, IL