The Mysterious Stranger
August 8, 2009
The air had a certain stillness to it, a chill that seeped through my heavy blue peacoat. There were no cars along the road as I walked home that night, nor pedestrians, save a single man, standing under the lamppost at the corner. He wore a long black trench coat and his face disappeared within the shadow of a black hat. He was perfectly still except for the bottom corner of his coat pulled aside by the wind, revealing black slacks.

The aloneness was reason enough to make any woman paranoid, but the stranger intrigued rather than frightened me. Did he have a wife and kids at home? Was he a secret agent working for the government? Was he just a simple working man, walking home from work as I was. Or a drifter, moving from town to town to escape painful memories, or the scene of a crime committed years ago?

After a time, the stranger moved on, and I, in the other direction, did the same. I wondered why he had stopped at that particular lamppost. Was he waiting for someone, and had given up on their showing up? Or was he too, thinking of the mysterious stranger.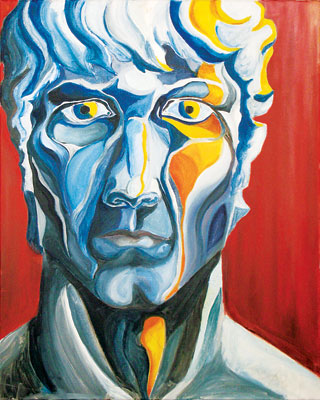 © Michael R., Cambridge, MA