Truth About Life
May 18, 2012
JANE and EMMETT are best friends.
They are walking down the street, talking.

JANE
Phew! What a day this has been! I had all my worst classes, including P.E., and had two papers due and four tests!

EMMETT
That does sound like a long day! Sure beats my day filled with my easiest classes. Also, my friend was saving a seat for that guy Justin, but when he came to sit down, he accidently sat on my friend's lunch! They were both pretty cool about it though, and just shared food.

JANE giggles and pushes her
hair back behind her ear. She notices
something

JANE
Aw, man. This is not good!

EMMETT
What's wrong?

JANE
I lost my hearing aids!

EMMETT
Aw, jeez! That is not good!

JANE
What?

EMMETT
I said that's not good!

JANE
My parents are going to murder me! They cost us 2,000 dollars! And that's excluding batteries and the cost for damages!

EMMETT
What are you going to do?

JANE
What?

EMMETT
I said what are you going to do?

JANE
I have to find them! If I don't, I'm going to have to pay to replace them!

EMMETT
Alright, calm down.


JANE
Can you please, please, please help me look for them?

EMMETT
Aw, shoot, I wish I could but I've got track practice soon and if I miss, Coach will make me run 15 extra laps in addition to the 10 we already do at the beginning. And after that, I have to go to my friend's house and rehearse with my band.

JANE
You have to help me find them! I can't hear anything without them!

EMMETT
Can you hear me now?

JANE
What?

EMMETT
(Chuckles)
How do I sound to you?

JANE
It sounds like you're talking to me while I'm underwater.

EMMETT
That's how it is when you don't have your hearing aids? How is that you can hear some things I say, but not other things?

JANE
Without my hearing aids, I rely a lot on lip reading. Even with my hearing aids, I have to lip-read. It all started back in the fourth grade…

Scene change: Flashback of
JANE'S life. There are different scenes
showing her throughout the hardest
parts of her life. The first scene is
her being told she has Cystic Fibrosis.

DOCTOR
The results from the sweat test have come back. You have been tested positive for Cystic Fibrosis.

YOUNG JANE
What is that?

DOCTOR
It's a lung condition that makes it harder for you to breathe because you have clogged airways. We'll give you some books and reading material so you can understand it better. We're also going to have to put you in the hospital for a few days, just so we can help you out with this big change and teach you what to do to treat this disease.

Scene Change: YOUNG JANE
is lying in a hospital bed very sick.
JANE'S MOM is next to her.

YOUNG JANE
I'm hot, Mommy. And everything hurts.

JANE'S MOM
I know. They've given you morphine and you should be asleep in a moment.

YOUNG JANE
But the fevers are giving me nightmares.

JANE'S MOM
Don't worry, sweetie. Once you're asleep, your pain will go away.

YOUNG JANE drifts off to sleep.
DOCTOR enters.

DOCTOR
I'm afraid her fever's reached 105. I can't tell you anything, but we're going to try everything to help her. But…I can't tell you for sure that she going to make it out.

Scene change: Sixth grade

TEACHER
And so, class, when you have a commutative property, the numbers just switch themselves. Jane, could you please tell me what the answer to number one is?

YOUNG JANE
Um…I don't really know. I'm sorry.


TEACHER
It's okay. Just try to listen next time.

YOUNG JANE
(Leaning over to her FRIEND next to her)
I'm really confused. Can you please help me out?

FRIEND
What's the point, Jane? You never hear anything anyway!

Scene Change: Tenth grade
JANE walks by GIRL #1 and
GIRL #2 and they start whispering and
pointing at her. JANE pauses DSR.

GIRL #1
Look at her. Do you see those scars?

GIRL #2
I know. They're so nasty looking! I heard she got them because she used to be a cutter.

GIRL #1
Gross. She's such a freak.

GIRL #2
Totally. Do you think she can hear us talking about her?

GIRL #1
Nah, she's got those hearing aids, which means she can't hear anything.

GIRL #1 and GIRL #2 exit.

JANE
I do notice you staring at my scars. And I hear every word you say.

Scene Change: Present day

EMMETT
You're really amazing. I never realized how strong you are. I could never go through all that.

JANE
(Laughs)
Everyone says that, but you know, I do what I have to do. Now do you see why it's so important to find my hearing aids? I can't go back to the teasing and the cold stares.


EMMETT
Well, now that you've explained everything, I have to help you look now!

JANE
Thanks, Emmett.

EMMETT
When do you remember having them in?

JANE
I put them in this morning before I left for school. I had to have lost them when I was someplace where it was really loud. I can immediately notice a difference in sounds when they're out. But when it's really loud, it's harder for me to recognize the change.

EMMETT
Maybe you left them in your gym locker. Don't you take them out for gym so they don't get damaged?

JANE
Yeah, you're right! That has to be where they are! Will you drive me there?

EMMETT
Of course I will! What kind of friend would I be if I didn't?

Scene Change: By the school locker room

JANE
Alright, I am praying that they are in my locker. If they're not, my life is over!

EMMETT
I'll, uh, wait out here.

JANE
(Laughs)
Good idea.

JANE goes offstage to search her
gym locker. Sound effect of her
rummaging through the locker.

JANE
(Offstage)
I found them! Here they are!

JANE hugs EMMETT

EMMETT
Well, I missed track practice, but you know what, it was worth it. I'm really glad you found your hearing aids, and I'm glad I got to get to know you better. Don't listen to other people and try to just ignore their stares. Your scars prove that you have continued to fight through all your struggles and you came out on top.

JANE
Thanks…I'm going to remember that.


EMMETT
What are you doing on Friday night?

JANE
Same as always. Plopping on my couch with some popcorn and cookies, and watching re-runs of Full House.

EMMETT
Well, maybe we could go out and do something, like see a movie, or eat dinner, or you know, we could even go rock-climbing if you want. I know how much you love rock-climbing!

JANE
(Playfully playing hard to get)
Well, I don't know…I sure do love my Full House…but sure I would love to go rock-climbing with you. And I promise I won't lose my hearing aids!

EMMETT
Awesome! I will definitely be picking you up at seven!

JANE
Sweet! I'll see you then!

EMMETT winks at her and walks away
JANE
I should lose my hearing aids more often!

Scene change: JANE'S house on Friday. EMMETT
knocks on the door and JANE'S MOM answers


JANE'S MOM
Oh, hello. You must be Emmett. Jane's talked a lot about you.


EMMETT
I hope she was only saying good things!

JANE'S MOM laughs slightly. EMMETT
can sense her uneasiness and can tell that
something is very wrong

EMMETT
So I came to pick up Jane for our date. Um, is she ready?



JANE'S MOM
(With a realization)
You don't know. Um…we had to rush Jane to the emergency room very early this morning. She's better, but she's still not doing very well. You should go see her. She could use the company.

Scene change: JANE'S hospital room

EMMETT
Knock, knock.

JANE
(She turns)
Hey, there. Am I late for our date?

EMMETT
(Chuckles)
Nope, you're right on time! I'm the one who's late. Why didn't you call me?

JANE
I was admitted at 3 AM. You were sleeping.

EMMETT
You think I cared? I would've answered. I wish you'd told me. I would've come down here to be with you.

JANE
I'm sorry. I was in a lot of pain. They put an immediate IV in me. I get my fifth PICC line in a few minutes.

EMMETT
Your fifth?

JANE
Yep. And let me tell you I am starving! I can't eat until it's over with. I haven't eaten since nine o'clock last night.

EMMETT
Well, that stinks! How long will this procedure take?

JANE
I don't know probably about 30 minutes. It really only take a couple minutes to get the PICC in, but they have to get me to sleep and then wake me up and help me recover from the anesthesia.


EMMETT
I'll be right here waiting for you until you get back.

JANE
It's just not fair. I have never had someone ask me out on a date before. Most boys see my scars and run off screaming. The one time someone doesn't, I'm thrown in the hospital.

EMMETT
It's okay, Jane. I'll be right here for you. I'll stay as long as I possibly can.

JANE
I'm scared, Emmett. Even though I've had anesthesia over 15 times, I hate the way it makes my body feel. I feel like lead and my whole body tingles for five seconds before I fall asleep.

EMMETT
Think about only good things while it's happening.


JANE
I will…I'm so scared…

Scene change: EMMETT is waiting alone
in JANE'S hospital room with his head in
his hands. JANE is wheeled in on the bed.

EMMETT
Jane?

DOCTOR
She's still a little groggy from the anesthesia, but while the procedure went well, she's still in bad shape. We don't know if she's going to be able to go on like this.

EMMETT
You mean…she might…?

The DOCTOR leaves without a word.
JANE stirs.
EMMETT
(Trying to lighten up the room)
Hey there, sleepyhead. How are you feeling?

JANE
(Weakly)
Just weak. I'm a little sore from everything. (Pause) Emmett, I really don't feel good. I've never been this bad before, and I don't think it's possible for me to recover.

EMMETT
No, Jane. You just need to hang in there. It'll be okay.

JANE
No! We both know it won't. I'm in so much pain, I can barely breathe.

EMMETT
Jane, please. I've finally gotten to see the real you. You are the most amazing girl I have ever met. You can't go. Not yet. There's so much we haven't gotten to do together.

JANE
(Tearing up)
Emmett, I can feel my body getting weaker with each passing second. Everyone thought I was going to be fine, but face it. I'm just getting worse.

JANE starts breathing heavily.

EMMETT
Jane, are you okay?

JANE
(Gasping)
Emmett…I love you.

EMMETT
I love you too. I want you to have this.

EMMETT gently kisses JANE.

JANE
I love you so much.

JANE dies.
Scene change: JANE'S funeral



PREACHER
We all loved Jane, and we celebrate the wonderful seventeen years we had with her. And now, if anyone has any memories they had with Jane that they would like to share, feel free to come up.

JANE'S MOM walks to the mic

JANE'S MOM
I loved my little girl. She always stuck through all the struggles she had to go through. She had such an upbeat attitude that could cheer anyone up. I just wish I could see her grow up into the beautiful woman she was already becoming.


PREACHER
Is there anyone else?
EMMETT slowly walks to the mike.

EMMETT
(Straining his voice, hiding tears)
Recently, Jane told me everything she had ever gone through in the rough fight against her disease. It made me see her with different eyes. She was so strong and beautiful. I'll never forget those last few precious minutes I had with her.
EMMETT walks to JANE'S
casket and lightly kisses it.

EMMETT
Good-bye, Jane. I love you. (Pause) And I always will.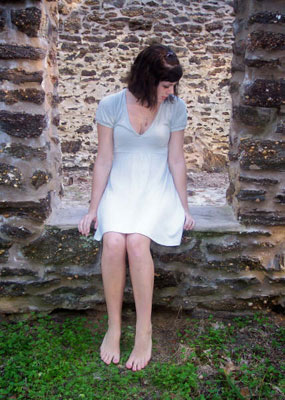 © Katie S., Vineland, NJ