A Complicated Relationship
December 13, 2018
Scene 1:
At rise: lights up. JESS is sitting alone at a table for two. She is in a high class, four-star restaurant waiting for her boyfriend, ADAM, to arrive. Nervous and frustrated, she practices different methods to finally break up with him.
JESS
It's not you, it's me/
It's just we've been together for a while, and I don't think.../
Look, Adam, I'm breaking up with you./
No. Ugh-/
We're different. I want a future and a life that you just can't give me. And you say you love me when I know that isn't how you feel - and that's okay. It just means…
(ADAM walks in and sits across from JESS.)
Adam… hi!

ADAM
I am so sorry I'm late, Jess. I was stuck in terrible traffic, and I had to pick something up…

JESS
I'm not surprised. I'm actually glad you asked to meet. There's something I've been meaning to talk to you about.

ADAM
Me too. Can I go first? It's kind of important.

JESS
Mine too.

ADAM
Jess,

JESS
Make it quick.

ADAM
Well, it's just, we've been together for a while now.

JESS
Oh, trust me, I know.

ADAM
Geez, this is harder to say than I thought.

JESS
Adam, I know where you're going with this.

ADAM
Look, there have been a lot of ups and downs in this relationship. We're different, and it's complicated.

JESS
I 100% agree. We're very different.

ADAM
Yet so similar.

JESS
Adam, I just think that sometimes us being different plays a big role in this relationship. I'm not your number one priority, and I get that. I've come to terms with it. Just yesterday, you blew off our lunch…

ADAM
I had errands to run. Believe me, Jess, I would have much rather been with you.

JESS
Adam, that's sweet but…

ADAM
No buts. We have been in this relationship for a while.
Two years and twenty-eight days.
(ADAM takes his napkin and puts it on his lap. JESS notices that her napkin is not on her lap, but she leaves it on the table. She is eager to leave and clearly uncomfortable.)

JESS
Exactly. We've had a good two years, but maybe… Adam, can't you see how different we are? You miss dinners, our friend's birthday - I mean last weekend, you didn't even show up to Jenny's brunch. No advance notice, nothing. You just didn't show. We are very very different.

ADAM
It's a good thing opposites attract.
(JESS smiles, unable to control it.)

JESS
Geez, now I'm blushing.

ADAM
You have a beautiful smile.
(Awkward silence - beat. JESS notices that she clearly cannot leave, so she waves her hand to call the waiter. Nobody comes.)

JESS
I'm starving.

ADAM
There is a long wait.
(ADAM picks up his glass of water to make a toast.)
I haven't said it in the past, I admit that. But here is to new beginnings …

JESS
Adam, just stop. I'm sorry, but please.

ADAM
Did I do something?

JESS
You did what you always do. I've been trying to tell you something all night, but you keep interrupting me.

ADAM
I'm listening.

JESS
I'm serious, Adam.

ADAM
What?

JESS
I can't- I can't do this! I'm going to the bathroom. I'll be right back.
(JESS exits stage left, annoyed.)

Scene 2:
(The waiter finally comes over with a bottle of champagne and the ring. He places the new bottle on the table and hands the ring in the box to ADAM. ADAM puts it under JESS' napkin.)

WAITER
(Unenthusiastic) Congratulations. Is everything going smoothly?

ADAM
It could be going better.
I'm nervous, but I know everything will be fine.

WAITER
That's what they say.

ADAM
Excuse me?

WAITER
People tend to say that everything will be fine. That marriage is this big, wonderful thing.

ADAM
Thank you, I guess.
(The WAITER sits down across from ADAM. ADAM looks around to see if anyone will say anything, but he is too afraid to ask the WAITER to move.)

WAITER
They're wrong.

ADAM
Excuse me?

WAITER
No, I really shouldn't. (WAITER stands up as if he were going to leave.) Forget I said anything.

ADAM
(Relieved and confused) Ok…
(The WAITER sits down again and begins talking.)

WAITER
Take it from a man going through his third divorce, it's not worth it.

ADAM
I'm sorry about your divorce. But that doesn't really apply in my case because Jess isn't like that.

WAITER
Of course, I believe you. Just don't say I didn't warn you.

ADAM
Ok.

WAITER
Women are tricky. You think you know them, and then bam, (mocking a spoiled girl) - I want new shoes. This ring isn't big enough. Stop snoring. Stop talking. Stop breathing, you're taking too much of my air. Blah. Blah. Blah.

ADAM
Yeah, um, well my date should be returning soon. (Referencing the chair the WAITER is sitting in.) That is actually her chair if you don't mind...
(The WAITER stands up and begins walking away embarrassed. He stops and turns around.)

WAITER
It's a beautiful ring.
I couldn't help but peek when I brought it over.

ADAM
Thank you. I hope she thinks the same.

WAITER
And I assume this is your first marriage?

ADAM
Yeah.

WAITER
Ah, of course. You'll understand by your third. Marriage just sucks. Simple as that. Can you imagine one person for the rest of your life? It's a ridiculous concept.
(ADAM turns around to see what is taking JESS so long. She is nowhere to be seen.)
It's like pizza. Everybody loves pizza. But can you imagine eating the same slice of pizza every day for the rest of your life?

ADAM
What I have with her is true love.

WAITER
Sure it is. Can I ask how you met?

ADAM
My friend, Tony, invited me to his Improv show. I spotted Jess on stage instantly, and I guess it was just 'love at first site'. (WAITER looks like ADAM is speaking a different language.) I'm guessing you don't believe in that either. But it was. Her smile. Her eyes. Everything! Before I knew it, I was in love with her. And I still am - I don't think I'll ever stop. She's the one for me.

Jess isn't anything like pizza.

WAITER
Well, she may as well be. But hey, this is entirely your wrong decision. Up to you. Just take my word, divorce papers are a pain in the -
(WAITER spots JESS returning.)
I believe the woman is returning. Forget I said anything. Again, I could always be wrong. The divorce rate in the U.S is about 50%, but those are just facts. Let me know when you are ready for dessert. Congratulations once again.
(Waiter leaves.)

Scene 3:
(JESS enters.)
JESS
Sorry, I'm good.
(ADAM takes a moment to contemplate what the WAITER just said.)

ADAM
We're lucky, you know that? What we have is real. It's not always like that with everyone.

JESS
What?

ADAM
I'm convinced this is true love.
(JESS was trying to be calm, but she snaps.)

JESS
True love? Adam, what are you talking about?
ADAM
The same thing you're talking about. We're on the same page, Jess. We've had our ups and downs in the past, but we can get past that.
JESS
What? No! Adam, no! Did you not listen to anything I said before I left? I've been trying to tell you something all night, and you are making things way harder than they have to be because things clearly aren't working out…

ADAM
Jess…

JESS
Adam, no! Two years in this relationship and nothing. We are young, I'm 25 for G-d's sake, and we shouldn't have to be tied down to each other. I know what I want. I want a future with kids... and I don't think you can give me that. You are unreliable, and you don't show up to things, and you don't know how to tell me how you truly feel. Today you love me, that's great. But what about tomorrow? What about a year from now? Yesterday you didn't show up to lunch with no explanation why, and I can't live like that. I'm a struggling actress in New York, and you aren't doing that well on your part. I have no idea why you even chose this place because it is way out of our price range. You know that, Adam. If we stayed together, it would only complicate things more.

ADAM
But I do know where we stand. I love you and you love me.

JESS
No, you don't. That's the thing. And there is so much more to a relationship than just love. There needs to be a next step, and you don't get that. We both deserve better. We deserve to be happy. Try to imagine, years from now, we did get married. Could you really see us being happy together?

ADAM
Yes.

JESS
No! It would only be a matter of time before we got divorced. I don't want to keep dating if this isn't going anywhere.

ADAM
So, we can make it go somewhere.
JESS
NO, WE CAN'T!
ADAM
IF WE TRY…
JESS
I DON'T LOVE YOU, ADAM!
(Long beat. This absolutely crushes ADAM. The hope for true love is what kept him going, but knowing that JESS doesn't love him changes everything.)

ADAM
Oh.

JESS
It needed to be said.

ADAM
Just hear me out.

JESS
Jesus!

ADAM
Using your hypothetical, if we got married…

JESS
We'd be miserable. Downright miserable.

ADAM
No, now it's my turn to talk. You listen!

JESS
Fine.

ADAM
If we were married, I'd have the joy of seeing your beautiful face every single day. I'd turn to you in the mornings and give you a big hug, and you'd feel safe in my arms. I could tell you how much I love you - every day.

JESS
You're saying what you know I want to hear. I want someone who can be there, someone reliable, who I can grow old with. You can't give me that because you don't see a future for us!

ADAM
When you asked if I could really see us together, my answer was yes. 1,000 times yes. It's harder to imagine my life without you than anything else. It really doesn't matter anymore. None of this matters.

JESS
But you don't actually see a future for us, Adam. That's what you need to understand.

ADAM
Why would you think that? I'm confused about a lot of things in this world, Jess, but you're not one of them.
JESS
I think that because you're never there for me. You're obsessed with your job! It's all you ever think about. Between your job and going out with your own friends, there's no room for me in your life.
ADAM
I need to see my friends every once in a while, that's not a crime.
JESS
It is when you are constantly choosing them over me.
ADAM
I'm not, Jess! I go out with my friends because I like to give you space sometimes. They get mad at me for always talking about you and joke that I can be obsessive. There's nothing I'd like more than to never leave your side, but I don't want to suffocate you all the time.

JESS
So can you really see a future for us?
(Beat.)

ADAM
I may not be the best boyfriend, and I may not always show it, but yes. I saw kids and love, lots of love. I imagined years from now that I would cook you dinner and you'd read to the kids and...

JESS
So you really do love me, Adam. You've never really said that. Not before today. You see what I see - us growing old together?

ADAM
Yes.
(Beat. ADAM stares at her napkin contemplating proposing. This would be a perfect moment, but he remembers how she said she didn't love him.)
But it doesn't matter anymore. Because you don't love me.
I think you should go.

JESS
But we haven't eaten yet.
(ADAM stands up to leave.)

ADAM
(Realizing how much JESS' words hurt him.) You don't love me. You've made it all clear. I've heard enough of this.

JESS
Look, Adam. I came here with the wrong intentions and I guess for once, I wasn't listening to you. I didn't know anything you told me tonight. You haven't told me that before. Knowing how you really feel changes everything! I want that too! Everything you said, I want it! The love, the marriage, the kids! What you said tonight was really sweet - you know that?

ADAM
Cut the crap, Jess.

JESS
I thought you couldn't see our relationship going anywhere. I mean It's been two years!

ADAM
A great two years.

JESS
An amazing two years.

ADAM
You said you weren't happy. I can deal with that. I can change or fix whatever you want to make this work between us. But that's not all you said. You said you don't love me, and there is nothing I can do to change that. You can blame me all you want for keeping this relationship from going anywhere, but it wasn't my fault. Perfect boyfriend or not, I loved you, Jess.

JESS
And I love you too! If you can see us together. If everything you said is true then I take it back! Everything I said tonight, I take it back.

ADAM
It doesn't work like that.

JESS
But it can. I see a future with us too, Adam. That's all I've ever wanted! I want exactly what you do, I just didn't know you wanted it.

ADAM
No, you want everything I want - just not with me.
(Beat.)

JESS
That's not true! I don't think that anymore. Can I tell you what I think now?

ADAM
What?

JESS
Adam…

ADAM
Jess.
(The following line is said simultaneously.)

JESS ADAM
We should get married. We should just break up.

BOTH
What?

JESS
You think we should break up?

ADAM
Married?

BOTH
What?

(Blackout. End of play.)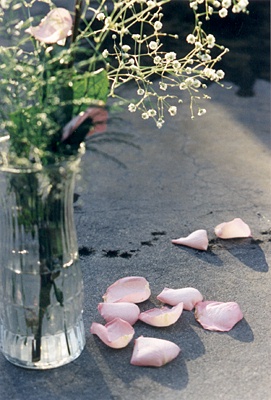 © Mary A., Fullerton, CA