The Trees Spy on Us
April 8, 2017
There used to be fairies in those woods. They played and climbed up trees and laughed at nothing. They'd fall into the frozen-over pond and could even laugh about that. They'd explore and find fishing gear embedded in mud along with single shoes missing their match. They played music and sang as if there weren't houses right across the street. In the woods, they were free to do as they pleased and be whoever they wanted. That's how they gave themselves wings.
Frogs would hop back into the water when the fairies approached, trying to get a head start before they got caught. Spiders trembled as they marched down the dirt path, about to walk through and demolish their fragile, silky homes. Tiny blood-sucking beasts would get a sinister smile on their faces, knowing their feast would be brought straight to them. Poor things, probably starved by now.
The woods gradually became a scarier and scarier place to them. Nobody used to care about the little fledgling fairies running through their yards to get to the woods. But when the fairies lost their wings and grew taller, it was different. The trolls in those houses became nasty and no longer wished to let them pass by, forcing them to find different routes.
They didn't mind taking the long way. That wasn't the problem – the trolls were. Trolls and the kind of fear that grew as they did. The woods didn't feel safe to them anymore. It felt as if there were people up in the trees watching them, watching their prey until the perfect moment came for them to strike. The magic had been stripped from the woods and replaced with fear. But there was an easy solution: stop going. Easy for most of them at least.
One fairy didn't want to leave. She didn't want to give up her wings. She didn't feel the same irrational fears her friends did. But without friends to go to the woods with, what was the point? She played with her human friends in the safety of the indoors. It wasn't the same. Neither of them felt it was.
But it's okay, we'll still be friends, we just need to adjust, she thought. People don't leave things behind like that. Like if you're wearing a shoe out somewhere, you don't just take it off suddenly and go home – oh. Maybe people who've lost their wings just don't like hanging around fairies.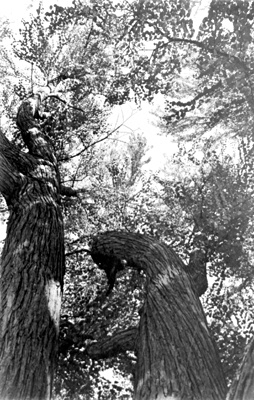 © Tim K., Marblehead, MA