The Case of Marcielle Claybourne
October 29, 2016
Believe me when I say this: I never meant to harm the girl, that Marcielle.
I know it may seem like her death was meditated, and her body mangled viciously, but it truly wasn't planned. If it were up to me, I'd be sound asleep, waiting for another hangover to overtake me in the morning, and she'd be somewhere in London with her father and his expensive house… But here I am, speaking to you in this cramped room.
I guess I'll start at the beginning. I fell asleep at 4:00 am, and don't remember my slumber ever being disturbed so gruffly as it had been that night; by a certain fifteen year old girl whom we both know was rambunctious to start with.
I was at the Fillmoch Inn, the place just outside of Wycombe and Slough. The light scattered in as the moon was slowly relieved of its duties by the sun, and I grabbed at my covers to hide my eyes. By the time I realized I had been awoken, the brat had run across the room. She stood with one eye open, a rifle poised at her shoulder. Don't ask me how she got it. I'd never seen it in my entire life before then.
"What the-" I began. She started shouting at me to stand up and place my hands in the air. Instead, I slowly drew a pistol out of my pants, like so. I walked over to my trunk, gun always at my side as not to frighten her. I took a swig from my liquor and tossed a sheet over Marcielle. The room was small, and the sheet was from a pile in my laundry basket.
She squirmed and screamed, firing her gun every which way.
There came along my problem. The silly little twit! She done shot herself straight through the head!
Blood was everywhere. It ran through her dark hair, making it clump together, and muddled my mind even further. I knew the Innkeeper would be down in a fraction of a second, so I wrapped her up in the sheet and waded across the floor.
I blundered outside, through the back window, and grabbed my knife on the way out. I was slipping and dripping the whole way. So, as to avoid making more of a trail and further spectacle, I ran into the woods and drained her, like a balloon full of air. I know that sounds mighty awful, but if you were in my shoes, slathered with drink and infected by the spirit of adrenaline, you'd've done the same.
After that, I looked to the Inn and noticed a crowd had already begun swarming my room. I forged deeper into the woods, holding the girl on my shoulder very carefully, but I was walking with a loose and uneven stride. I misstepped several times, falling this way and that. My burden was no lighter than before.
I finally reached a cave-like aperture in the ground, and hunched down into it. I cringed and I heaved, but I managed to cut and break apart her body. It took me at least all day, and I was surprised none of y'all hadn't caught up with me just yet. Do you know how hard it is to cut through bone? It's almost easier to snap it in two! Her femur separation from the pelvis took the longest, because I couldn't just break it. It's impossible.
I sat there with my handy work done, spattered with the now copper coloured blood drying all over me. I dug a hole and buried what organs, bones, and such that I could. It was shallow and unskillfully made. That's why you've already found it.
I carried her torso and clothes in the sheet, ever so careful like, and threw them into the nearest river. I haven't seen those parts since, and would thoroughly enjoy myself if I never did!
I know I'm going to jail for what I've done. Oh I know it. But I'm almost glad, see, because what I heard her terrible mouth mutter right before I threw it scared me to death and back again.
I heard her say: They'll find you out, sir! Oh yes indeed. They'll know what you've done to me!"
She said more, but it ain't right to speak for the dead, so I'll leave you with that.
May I go back to my cell now? My skin crawls to think of that godforsaken voice!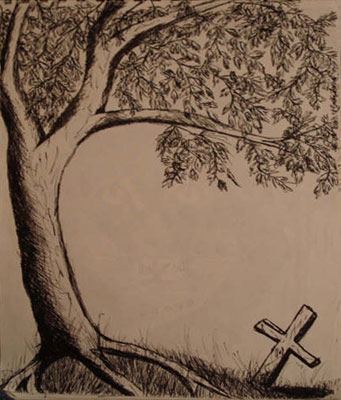 © Courtney K., Bethel Park, PA