Empires of Excretion
September 14, 2015
"We're going to die," he said, his voice hoarse, exhausted.
The Little Cockroach stood by, watching the young man from a safe distance. The sewer was dark, rancid odors ringing through the atmosphere, but the cockroach never seemed to notice. He rather liked it. "We're all going to die."
And it was true. The last man on Earth dreamed his final dream, covered in the faeces and pollution his species buried under their towering architectural monstrosities. It was like watching a deity take its final breath, both a Creator and a Destroyer to all of cockroach kind, sleeping his way into eternity.
And the Little Cockroach, counting the man's last words, his last memories, knew that an era was about to end--and his own begin.
His friends, the Maggots, came by, feasting on the mans' body. He'd greeted them briefly, rolling over the cadavers' eyes. "How are you all, then?" he asked, happily.
"Oh, we're quite fine." They said, their vacant mouths breathing death. "All the animals and humans are dead now, since the strange light appeared. We're the only things left, it seems; us and several months worth of meals."
"Ah," the Little Cockroach said. He shook his feelers. "I feel uncomfortable, standing on a human."
"Why?" the Maggot asked.
The Little Cockroach stared down at the corpse. "These people have created such a world for us," he said, quietly. "Such a strange, wonderful world of waste and pollution. A corruption to its greatest extent."
The Maggot stared at him, silently, wisely. If it had shoulders, it would've shrugged. "We shall make a world of our own, on the bones of God," it said, crawling to the man's shoulder. "We shall defecate on our forefathers, as they have done to theirs. From the ash, we shall rise. And like most things, we shall fall in our own fashion."
The Little Cockroach, deep with thought, recalled the man's last words. We're all going to die, he said. We're all going to die.
And he believed that it'd be fine.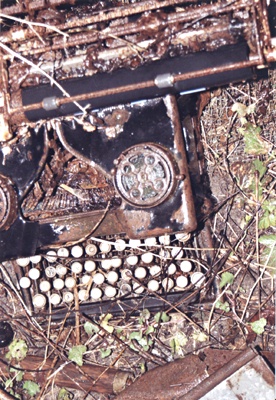 © Kyla G., Sunbury, PA