Out of the Ashes
April 12, 2015
The dragon was still. As still as the jewels he lounged on. The darkness of the vast cave was ominous, but more ominous still was the murderous figure that was before me. The light in the cavern seemed to come from his strange bed, which filtered into his scales, as red as the blood he was responsible for spilling. He never moved a muscle. His cold eyes never left me. I glared in return. How could anyone, even a dragon, not feel remorse for what he has done? He had leveled famed cities, uprooted nations without even a blink of his eye, orphaned thousands of children! My hate for him boiled inside.
"Hello, Firebird" he hissed, his mouth curling into a sick smile. "I have been expecting you."
Of course you have. I thought. But you don't know why.  My own mouth formed a snarl. "You or your spies, unless you have eyes on your tail? How many are currently working for you, and for what purpose? Just to claim another city's treasure for your bed?" Open-ended question. Good. Keep him talking. Get his guard down.
The dragon's smile turned into a snarl, which did not look so different from his grin. " My purpose is not yours, girl! You seek revenge, while I become the greatest of all creatures! I alone, who have done what no puny human has done!"
What?
"What do you mean, revenge?" I asked cautiously. Though I my goal was to catch him off guard, that certainly was not my goal for myself.
"You don't know?" The dragon's sickly smile came back. " Another thing to add to the list of things you and your resistance friends do not know."
I checked my watch. Using my inner heat sensor given to me as a guardian of the Phoenix, I could feel my companions getting closer, getting in position, waiting for me to make my move. Among them, I could feel Jay, our commander, ahead of the group. Following him was Julia, my little sister, who had become a major leader in the dragon resistance. Oh My Gosh. Phoenix herself was here. My job was extremely important now. However, I wanted the truth.
"What do you mean?"
He chuckled. "Firebird, you really expected to get out of my attack alive and me not know about it? I caused the fire that killed your family. I caused the fire that brought the Phoenix herself to your aid, making you her guardian. Yes, I know what you are. It was the only way you and your sister could survive my attack. I know..."
I wasn't listening anymore. The only thing I could think about was my parents. What the dragon had claimed echoed in my head. I caused the fire that killed your family…I caused the fire…. Killed your family…killed your family…
All other thoughts fled my mind. My original mission, my companions hiding in the shadows, my sister. Revenge. Revenge. Avenge!
With murder in my heart, I struck.
With a start, I sit up in bed, making my sister next to me stir. It was only a dream. Starting to relax, I look around my bedroom. It seems fuzzy, somehow. Something is wrong. What is that smell? With horror, I realize what the problem is. Jumping up, I grab Julia, and run to my parents room, somehow not being affected by the heat that is all around me.
My room is surrounded in flames.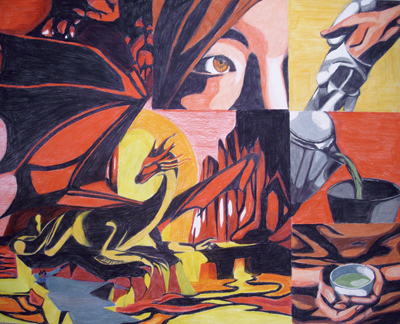 © Weike W., Rochester Hills, MI