Why You Know Today is a Snowday
November 18, 2014
"There won't be school," she told her parents, early that morning. There isn't, but how had she known before they got the call? She supposedly "just felt it", but there's clearly more to it than that.
Last night, the blizzard was too much even for the snow itself to handle. A handful of flakes hid behind the wall of some building; it was that unGodly cold. When these cowardly flakes noticed smoke leaving a chimney on the building's roof, they discovered that this was actually a home. A warm one.
They didn't ask much of the wind - only to crack open a window just enough to sneak them in. The mischievous flakes then fluttered inside, danced ecstatically in the warmth of the house.
But with no way to close the window, they found the cold air from the outside world slowly chilling the room. Now they had to come up with some other place to...
They noticed a young girl, sleeping soundly in a twin-sized bed in the corner of the room. The rebellious flakes then proceeded to slide down her snoring throat as if it were a water slide.
The next morning, she woke up to a bubbly, frantic, exhilarating sensation in her stomach. The young girl didn't know it, but those snowflakes were bouncing around inside her, full of life; having heard millions, trillions of newborn snowflakes outside and wanting to play with them.
What she DID know? Those trillions of snowflakes were stuck to the ground.
And on the roads.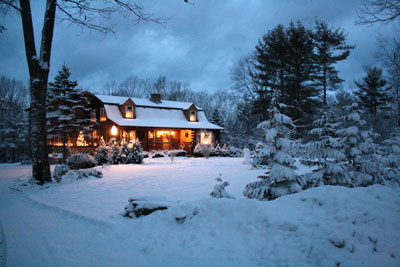 © Paige C., Rutland, MA