White Flowers and Dragonflies
June 12, 2014
This place is so green, it's impossible to drink it all in at once. As it's literally enlightened by the four o'clock sun, the forest's green and sky's blue absolutely shine. Two Christmas-tree-looking pines, one significantly smaller, sit at the meadow's edge. The grass is ankle deep, at least, but thickness and height do vary in some spots. The area is about the size of two school buses standing next to each other. Tiny, hardly noticeable white flowers are sprinkled among the grass, and insects vary from tiny gnats to bumble bees.

I look down, observe my sandals and short-shorts.

I've never stepped in this meadow before, have enough common sense to understand that looks deceive. This happens to be the thorniest little chunk of the property. Thorns are bad, especially walking through them with naked legs. But my favorite song just came on my iPod, I finish exams tomorrow, and summer is here – I'm feeling Brave.

Thorny vines crunch under my shoes, but I keep moving, encouraged by Sara Bareilles in my pocket. I hop through the thinnest parts of the brush, carefully. I feel like I'm doing a fair enough job when I'm dive bombed by one of those huge, impossibly stupid June beetles. It takes several panicked hair flips to get the thing off my head, and my feet balanced on the ground again. Wishing for more dragonflies, I take another step.

Maybe some bodies were buried under here, I randomly think, and laugh in spite of myself. When I realize I'm both laughing and dancing (I'd unconsciously started to hop in rhythm to the music) over a potential graveyard, I freeze. There aren't any dead bodies under me, I know there aren't any dead bodies under me, but the last thing I want is Sam and Dean to show up supernaturaling the place. Then again...

My last little hop nicks me in the shin, courtesy of Karma. After stereotypically panicking for three seconds, I make my way out of the meadow on the clear path. Briskly brushing the thorns from my skin, I take note of a finger-length diagonal line of red dots on my leg. Satisfied, in sync with Sara I insist maybe there's a way out of the cage where you live, and maybe one of these days you can let the light...

I freeze. All of you with allergies out there: Seeing a mass of pollen coming your way is supposed to make you run for the hills, right? But this sudden abundance of dust specks is oddly, beautifully hypnotizing. Hundreds of these small, white tufts of pollen ride the breeze picking up, peacefully drifting through the sunlight and the greenery. Like a summer snowfall.

Now they freeze. This spectacle abruptly decides to stop moving, just stay put in the air several yards away from me. I almost shrug it off until I feel the breeze continue.

Mostly to calm myself down – and avoid thinking about "Supernatural" – I sing along to my iPod again. "Say what you wanna say/And let the words fall out." And honestly, POLLEN STARTS MOVING AGAIN.

Faster, almost eagerly, as I belt out my alone-in-the-shower voice they keep on coming. When I don't stop (sorry, neighbors), everything the light touches seems to beam. Those white flowers, they bloom through the green consuming them, offer so many speckles of beauty. All the critters seem to move with their own rhythm to my music, my voice. Really, though, none of them compare to the dragon flies showing up.

A dozen have swarmed in, scatter themselves through the meadow. A handful of the beasts, mostly dark with yellow dots on their tales, even circle around me before joining their friends in the meadow. That's the thing about dragonflies: They're just so cool looking, with their funny-looking wings and rods for tails, and big enough to actually see. They're harmless things, don't bite or buzz or dive bomb, but at the same time not that annoying, butterfly-shy. They are not afraid to circle you and leave you giggling through the bridge of your song.

As irresistible as they are in the sunlight, I childishly reach for the flakes of pollen, only to have them float stubbornly out of reach. I want a paint brush, a camera, something to capture all this. Even singing, bubbling with happiness and release, I want to store this moment in a box in my room, hoard it for opening on rainy days.

Thoughtlessly feeling for my shin – a swelling scar – I get the weirdest feeling that I can.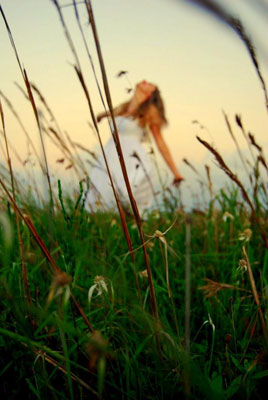 © Richard F., League City, TX