250 Word Opening to My Novel "The Deathspeaker"
April 2, 2013
Something in the air shifted. Perhaps somewhere in the woods, a blade of grass, still shivering in the early morning chill was crushed, trampled to the ground to lie pressed against itself. Perhaps it was the inward cry of something caught, something that was never meant to be ensnared, and then the sudden absence of its voice. Later, Ennah could not determine what exactly had woken her that morning. But somehow, ever so subtly, the air changed and Ennah awoke with the startled vertigo of one who has emerged from a sleep populated with the dense, doughy stillness of exhaustion.
She lay a moment, in the silence of the morning, feeling the warmth of Nua on her back. He was still asleep, in a dreamless place where exhaustion's appetite was soothed, but not imaginations. Nua dreamt as little as Ennah slept. Last Fulith coming had been a rarity, in that she had closed her eyes and not risen until Ula caressed the skies with her fine golden fingers. She did not trust Fulith and his blackness. Too many people had fallen asleep to find the world changed. Or never awakened at all.
Today was a water-sky, pure and blue, promising heat to come later in the day. But most of the world's life was still curled up in each others warmth, eyes closed and their minds quiet. Only a small few were already awake. As she became more fully conscious, the empty world suddenly filled with whispers.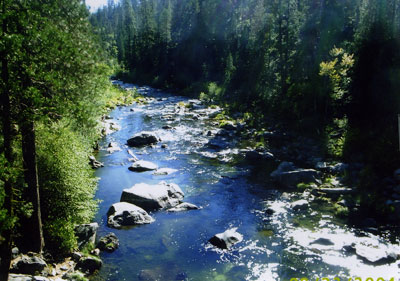 © Laycie C., Stockton, CA