High Stakes
MAG
June 26, 2008
From his seat at the bar, Morse watched as the man in the dark suit moved from table to table, placing bets and shuffling decks and winning every game. Nobody else seemed to have noticed him. The man's face was so bland it was almost entirely forgettable, and the people whom he beat rose from their tables with momentary blank looks in their eyes. Morse felt almost certain that the man was just who he had been looking for.

He cautioned himself to remain ­patient. If he was right, then he had all the time he would need. If he was wrong, well – he would be wrong. His burden would not be relieved that night. The bartender, a sensible-looking woman dressed in a ridiculous showgirl uniform, glared at him a few times. Morse had finished his beer a while ago, and she clearly thought that he should ­either hit the booze or the gambling harder. He grinned at her. After his business was done, he might do both, and a little more besides.

Eventually the man stood up from a blackjack table and ambled over to the bar. Morse couldn't hear what drink he ordered, but it was oddly colored and it arrived in a frosted glass. He sipped it for several minutes before looking at Morse. "Yes?"

Morse had neither spoken nor gestured to the man, so he relaxed. He had been right about his identity. "I was wondering," Morse said, then paused to face him, "if I could challenge you to a game."

"What sort of game – craps? Blackjack?" The man's voice was smooth, perhaps emotionless, but Morse thought that he sounded slightly amused.

"Yours. Playing with your rules."

The man was silent for several ­moments, though he didn't seem ­surprised. "You know who I am, then?"

Morse told him. His voice didn't shake, and for this he felt relieved.

"Very well." He gestured to a small table in the corner Morse hadn't ­noticed before. "My rules. We'll play." He tapped on his glass. "Just let me finish this. You can't get them like this where I'm from."

While he waited, Morse thought about strategy. There were many ­accounts of games like these, but they varied in details – most might have been nothing but fable, wishful thinking, or the rules might have changed depending on the player. In any case the final results were always close enough for him to depend on.

"That your friend?" the bartender asked. She nodded toward the man in the dark suit, who was now sitting at the opposite end of the bar, although he had been sitting beside Morse the last time he looked.

Morse shrugged. "Just met him."

"I see." Her tone was doubtful. "Just be careful, all right? He's good. I mean, he's really good."

"Oh, I know that." Only a fool would expect to win against him. The thing was, Morse didn't expect to win. The bartender gave him one last pitying glance before she turned to take orders from some rowdy drunks who had just stumbled up to the bar.

The man's voice sounded very close to Morse's ear. "I'm ready, if you are." He was standing beside him again, checking a well-polished pocket watch that was inscribed with foreign numerals and signs. Morse nodded, swallowing. He was as ready as he would ever be. They made their way through the crowded room, past flashing slot machines and the sounds of dice and fortunes being tossed. People didn't seem to notice the two men, even as they stepped aside to clear a path for them. Morse stuck his hands in his pockets. He tried to think about his life as a whole, but he could only focus on certain details – a woman's lips, a splash of blood – the memories that had brought him here to this game.

They sat at the table, across from each other. Nothing in the man's gaze was unpleasant, yet Morse couldn't bring himself to look him in the eye. "I'll deal, then," the man said. It wasn't a question. From under the edge of the table he took a deck of cards and a leather bag, which he emptied in the center. Black chips made of cheap plastic spilled out. The man looked up at Morse. "The standard stakes, I presume?"

"Of course." He watched the man ­divide the chips between them. As soon as they fell on Morse's side of the table, they acquired an unnatural sheen reminiscent of motor oil. The other man's chips changed too, becoming somehow darker, as if they absorbed the light that hit them. Morse picked one up. It looked no different from the others, felt like an ordinary chip. "They're all worth the same?"

"Oh, most likely not. But they're played that way." He began shuffling the deck. "You'll catch on. It's rather like blackjack." At this he dealt them two cards each, face down. "A starting bet?"

Morse hesitated. He would have liked to bet an outrageous number of chips, just to get most of the ordeal over with, but he didn't want the man to be suspicious, and didn't want to lose everything, at least not at once. With a steady hand he pushed four chips forward.

For that final moment that they touched his flesh, he remembered. Four distinct memories, four scenes that neither time nor experience had been able to erase. Then they were gone. They shone faintly in the chips on the table, separate from Morse. He exhaled. He could hardly believe it had been so simple.

The dealer matched his bet, his expression not changing as he set the pieces down. He flipped over one of his cards – a ten – and picked up the other, concealed in his left hand.

Morse studied his cards. A six and a five, a decent hand, but what mattered was how he played them. He raised his bet by two chips and felt two more memories slip away. With a drag of his hand across the table, he asked the dealer to hit him with another card.

They played without speaking. At first Morse kept count of the hands they played, which ones he won and which he lost, but soon this too was forgotten. He could only concentrate on the cards in his hands and those on the table, and the number of chips on each side. While they remained in play, they were safe. His life was growing steadily vaguer, a collection of isolated incidents, and he realized that he could not say, for certain, what kind of man he was.

That was a gift, he knew. He doubled his bet on a terrible hand. A miracle. It was the reason he had come. Finally all of Morse's chips were gone, held by the man sitting across the table. "I lost," he said. He couldn't remember if this was what he had wanted, or feared, but it didn't feel bad. He was emptied out, free of past and personality. Innocent.

The man nodded. "Yes," he said, "you lost." His face betrayed some nameless emotion, something akin to relief, as he looked at the chips on the table. "You may take them all."

Morse – though he was nameless now – blinked. That was wrong. When someone lost a game, he lost what he had put into the game. The chips were pulsating with discarded memories, suffused with his past, and he wanted neither them nor the darker chips born of the dealer's mind. "No," he said.

"But you must." The man's voice was mild, but it could not be disobeyed. Trembling, Morse reached out to take the chips.

Then it came back; it all came back. His duties, his mistakes, his injuries, his crimes. His self. Everything he had wanted to leave behind in the casino that night, everything he had hoped to lose. Then something more. He glanced down in horror at the other man's chips, which were losing their shadowed glow as his own were losing their gloss. He almost choked as he ­realized what was happening.

Other memories were entering his mind, worse by far than his own, but not foreign. Not foreign at all.

These were the thoughts he had repressed. These were the pains he
had numbed himself against. These were the disappointments, the transgressions, the sins he had committed by believing them to be virtues. This was his life, stripped of denial. This was who he was. Who he was, really – the person he had been trying to escape all his life – spread out ­before him in vivid detail, like the cards spread across the table.

Morse lowered his
head to his arms, pressing his eyes against clenched fists. He groaned. It was all he could do. When he finally managed to look up, minutes or hours later, he saw that the man had stood and was gazing down at him.

"You've heard tales," he said, not unkindly. "Rumors about me. You ­assumed things. It's understandable."

"I … I lost the game." Morse shuddered. He could hardly speak. "I should have lost …."

"You were playing to lose, but you didn't understand the rules. What would I want with your soul, Morse?" The man in the dark suit shook his head. He scooped up the chips, now dull plastic again. He walked away, his own soul feeling much lighter, and started looking for a new game to play.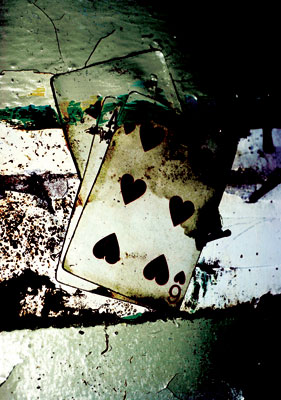 © Tracy A., Scarsdale, NY