Their Utopia
June 5, 2012
This is a huge risk- I know it is. Don't think that I haven't been warned. Angeline told me it's stupid to put everything at stake. Chris insisted that I am endangering all of us with this. They are right, of course, and you can call me anything you want- selfish, rude, unkind, but not naïve. Because I no longer am. And I don't want you to be.
You see, when it started, no one really noticed. Except for the psychics and isolated bearers of the doctor's degree. But no one listened to them. Those were charlatans, these were over-learned. They were the first to go. After all, who needs people who are not asleep? Oh, there were some speculations; overworked housewives complained of gang activity; unsuccessful businessmen blamed everything on the rise of communism. But soon enough, the noise quieted.
I still remember the day I saw my first airshuttle. Impressive, quite. I was writing a passionate epopee by my window, when my room grew completely dark. I ran outside, and lo and behold. It glided soundlessly through the air, a matte-silver color, something misting below it. Lengthwise, the airshuttle outstripped the whole street. Somehow, after it passed, I was unable to finish my story of deceit and violence. Not that this bothered me, for inspiration often came and went. It should have. Somehow, after it passed, Lisa and Beth forgot their feud of the broken doll. Not that this bothered me, for they were but children, lightheaded. It should have. On my weekly visit to the office, I found out that somehow, the Peru-Abkhazian war was over, and Russia decided against dropping the hydrogen bomb on the U.S. Not that this bothered me; world peace is good, right? It should have.
First went the pregnant, then the month olds. Every week, on Sunday. Youngest, then younger, then young. But that was nothing. Nothing to worry about. If the government said, "It's an enrichment program," then nothing is wrong. My girls were taken on the eighth week.
When the teenagers went, I became worried. The children weren't coming back. I mean, All Times Vacation was nearly over, and Lisa and Beth could not possibly be late for school. John said I'm being hypersensitive; I'm not sure he knew what that meant. He was five years younger than me, so I watched him climb onto the airshuttle. That night I forgot to take my sleeping pills. Insomnia would not let me sleep, so I imaged Lisa, then Beth, then John. None of them answered. In fact, no one in my address book answered. Internet was down, the television did not function. My books were gone.
I nearly had a heart attack when a group of people burst into my house, bound and gagged me. One of them must have given me a sedative, for when I woke, I found myself in a completely unfamiliar room. They told me everything. They became my new family. Four children, three adolescents, seven adults, eight, counting me. Our dumber has been dwindling. Our leader, a wizened female named Barbara used to be a secret agent for the WSP (World Security Program). When she overheard one of her boss's conversations, she was horrified. She ran away and vowed to take whoever she could with her. She couldn't live as they had planned.
And neither can I. Why didn't they come back? Why didn't Lisa and Beth come home? Because there is no Lisa and there is no Beth, anymore. They ceased to be, but still exist, and always will, together with all the others. All of the people who were once individuals are now one; It. Together, the same, harmonious, all-knowing and all-powerful. They have almost achieved their goal. No one will fight, of course, if there is only The One.
Do you know how this all started? People prayed for, demanded, donated to, worked for world peace. And when technology got there… Hardly anyone noticed the signs. Now it's almost over. Utopia. It's what everyone wanted, right? Careful now, be alert. Be watchful, and notice what we did not. Before it's too late for your world too.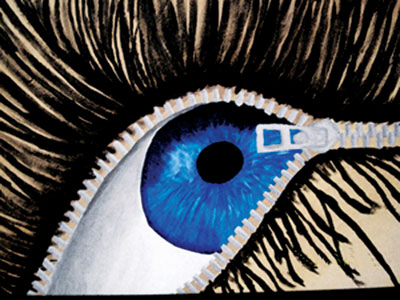 © Brad S., Lecompton, KS