The Creation of Earth
September 26, 2011
Once upon a time, two giant creatures, the Sun and the Moon, lived all alone in the universe. They both had been travelling around looking for any other signs of life when they discovered each other. Almost instantly, they fell in love with each other. So for thousands of years they stayed together traveling throughout the vast space that surrounded them. Then one day the Moon gave birth to little stars. Now as a family, the Sun, the Moon and their billions of star children traveled the universe.

All the while, the Sun and the Moon argued. They fought over silly things such as how the Sun was too hot and how the Moon was too tiny. After each of their fights, they would separate for a few days to calm down and then they would meet up together again. It just so happened that the day they finally met some new friends in the universe was the day they had their biggest fight ever. They had found the Milky Way galaxy and their new friends were Mercury, Venus, Mars, Jupiter, Saturn, Uranus, Neptune, and finally little Pluto. The Moon wanted to stay with all these new planets and talk about what they had been fighting about but the Sun just wanted to go away and be alone. Therefore, they went in separate directions, the Sun far off, even farther than Mercury and the Moon stayed in a large open space between Venus and Mars. Some of their stars stayed with their mother and some went off with their father.

The Moon cried so much that when she had dried her eyes, there, right in front of her was a large blob of salty tears. The fiery and bright little stars could not cry as their mother so many of them jumped into the giant tear blob. Thus, land was created upon the salty water. The Sun who suddenly felt very guilty for running away from his wife, sent light towards the large water blob as a peace offering. The Moon and the Sun made up but they stayed separate and forever remained apart. Thanks to the light from the Sun, the salty water from the Moon, and the land from the stars, the creation of Earth occurred.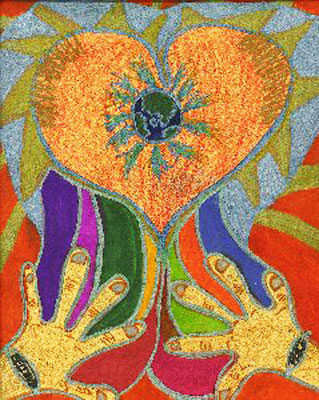 © Amanda P., Clermont, FL