The Dream Weaver
July 8, 2011
As the glowing ball of fire sank beyond the horizon, the whole world began to change. The pure blue sky turned a majestic color of purple, streaked through with fiery orange and yellow rays. The frogs ceased their croaking and the birds ceased their chirping. Time seemed to stop. Only the endless sky continued to change. The fantastic array of colors intensified in beauty. An artistic splash of hot pink there, a stripe of cheerful yellow there. Having reached the peak of it brilliance, the sky began to dim as the great sphere of light disappeared.

Softly, like a creeping shadow, darkness tiptoed into the world to take day's place, little specks of light glittering on its cloak. On this night, as on all nights before, a certain man began to work. Somewhere, up in the sky, above the stars, an old, old man began to pluck threads from the wind: silver, sparkling threads, lighter than air. This was an old man indeed, with a thick, curling beard, whiter than snow. He wore a robe of the darkest midnight black, made from the night's breath. His face was a wrinkled parchment, full of creases and lines. His eyes were a shocking, brilliant blue, brimming with memories long gone. This man was as old as lady time herself, and from the beginning of our world, he was known as Dream Weaver. With deft movements, his slender fingers wove the thread into a small cloud, no bigger than a child's hand. The Dream Weaver looked at it with gentle eyes, and carefully tossed it earthward. Down below, a ragged beggar sighed in contentment, envisioning a lavish feast in his slumber. The man did not stop working; his fingers let down cloud after cloud, which drifted downward, sparkling and shining as a child's first laugh. A lonely mother in a fitful sleep, smiled, as she dreamt of her son in her arms, come home at last. A little boy laughed in his sleep, once again playing with his long buried dog.

The man looked down at the fruit of his work with shining eyes, as he has done, and shall do every night. For as long as the Dream Weaver continues to live and do what he does best, humankind will keep dreaming.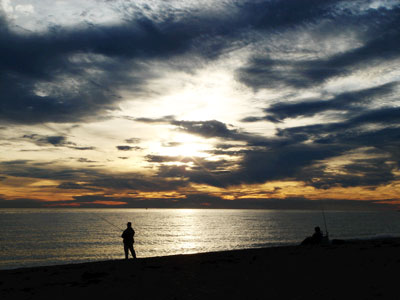 © Sarah C., Hillsdale, NJ