GRIT - excerpt
December 21, 2010
I laid in bed and looked up at the window above me. The rain hit it and I followed the slippery drops with my pointing finger. My small ladybug clock said 5:30 A.M. and my eyes were on fire from lack of sleep. Insomnia took hold of me a few years ago, so I rarely get a full night's rest anyway. Instead of sleeping like a normal person would be at that hour, I liked to lay in bed and look out my window at the star-speckled sky. But on that particular night, I watched the rain fall and run down my window as if it were crying.

I slid out of bed and sneakily tip-toed across the floor, skipping over all the squeaky spots. I walked over to the opposite side of the room where I switched the light on and began digging through all the papers burying my desk.

I like to draw. My doodles cover my bedroom walls and the refrigerator downstairs like colorful blankets. My mom even framed a few of her favorites, although I begged her not to. They sit above the fireplace now for everyone who walks in the house to see. My mom takes pride in showing the neighbors when they bring over half-eaten watermelon and cake from parties we weren't invited to. I hide on the staircase until they leave.

My mom's name is Cora - Cora Carp. She's pretty. When there's a breeze, her hair dances around her face in perfect strawberry-blond swoops. Her eyes are big and blue. I love her eyes. They always seem to sparkle and the thin skin at their edges wrinkles when she smiles at me. Her eyes are my favorite.

My eyes don't sparkle like my mom's do, though. They're gray-blue and very tired-looking, with ugly dark shadows under them. I hate my eyes. I was given a pair of hideously huge, black-framed glasses that distract people from the rest of my repulsive face though. I used to hate them, but as time passed, they sort of grew on me and even became a kind of part of me. Quigley Carp - the one with the glasses? Yep, that's me.

I finally found what I was looking for: a drawing of a dark forest I'd been working on for the past week in art class. We were supposed to draw something purely from our imagination. So, I took a peek inside my imagination and that's what I found. It's nothing special, just a whole bunch of trees with branches like long, skinny fingers reaching for the charcoal sky. Except for one tree - it has a pair of yellow eyes, staring at whoever stands directly in front of it.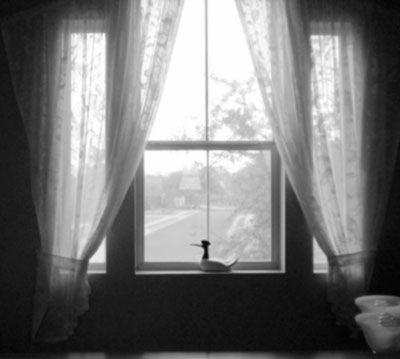 © Kathryn W., Austin, TX