The Bridges of Life
June 9, 2010
The taste is bittersweet as I stand in the doorway of the funeral home shaking stranger's hands. One by one they got to my families caskets. It was horrible. The accident happened a few days ago.

"Andrea! Don't do that!" My mom snapped at me for pinching my baby brother's cheeks. "Gosh mom! He isn't made of sugar!" She ignored my sentence. Her phone made little beeping noises as she wrote a text to one of her friends.

We were halfway into the city when it happened.
"Chad!" My mom screamed. A big fourteen wheeler was coming at us head on. The driver was dozing off and lost control. He tried steering the opposite direction of us, but he hit the edge of the bridge and the end of his truck came back hitting the back of our van and sending us flying over the edge of the bridge.

"Andrea?" It was Melody, one of the popular girls; I never even talked to her. She gave me a giant hug smothering me with her huge breasts. "I am so sorry! You know, about the accident." I hated that. I was so sick of hearing the "I am so sorry" line. "Thanks, um…'' I trailed off and she walked away to her other hot friends.

In sixth grade three years ago Melody and her gorgeous friends tried to seduce me to be in their "group." Melody only belied in pretty friends. I didn't have any friends. I still don't people and I don't relate well. "No, thanks umm…" I trailed off they rolled their eyes and walked away swaying their hips.

We were falling the last thing I remember is looking at my family and remembering all the holidays we spent together and my life with them in slow motion. I guess that's what they meant about your life flashing before your eyes. We hit the ground and my brother started crying. We rolled once, twice, three times and hit the interstate. Another car ran the crunched up van over. It hit my brother's side. The sight was worse than anything you could imagine.

"Hello Andrea," I stop almost shaking his hand. "What are you doing here?" I ask in my bitchiest sneer. It was the trucker that killed my parents. "Andrea…It was an accident I felt the need to pay my respects to your parents." I let him threw and he takes off his cap bowing at the caskets.

Some pedestrian or driver calls 911 and I already knew everyone in the car was dead…except for me. I wish I had died. The fire department, several ambulances, and a ton of policemen came to the scene. They had to pull out the Jaws of Life. It took a near 7 hours to get all of us out. They strapped me in a gurney first and the rest was a blur. They had to put me in a comma to work on my body. I had 3 broken ribs one broken arm, severe bruises, and apparently a concussion.

"Where are my parents?" I ask a nurse in hysteria. Sorrow crosses her pale blue eyes. "Honey? Your parents…they well….um….they passed away." I remember my knees buckling had I not been laying down I would have fallen over. "No…no…your lying!" She looks down and a tear falls out of her eyes. Why was she crying she had her parents! "My brother where is he?" She looks at me and I already knew the answer. I closed my eyes and put my hands to my temples and fell back into the pillow.

"Sweetheart are you okay?" the fire chief asks me. I shake my head and point to all the blood coming out of my leg. "She cut a vein! Get gauze!" an EMS said. I remember they covered my family's gurneys.

"it's time." My grandmother said pulling me to the podium by the caskets. I clear my voice and people pass Kleenex boxes to each other. "As you all know, I have lost three of the most important people in my life. It was tragedy and I regret us ever driving that day." I blink back tears in my green eyes. "I'm sorry!" I say and run off to the bathroom. I sit in a stall wrapping my arms around my knees and cry softly starring at the blue water in the toilet.

The EMS guys put a breathing mask on me and I slowly slip feeling my heart beat coming slower. "Stay with me "one of them yells. I nod, but fade out. "Help" Is the last thing I remember hearing. I feel somebody warm holding my hand. "Its going to be okay." He softly whispers to me.

"Andrea." He doesn't wait for a response he walks right into the small stall and sits across from me. It was my dad! "Dad!" He wasn't translucent. Then my mom and brother appeared. "You're dead?" He looks at my mom and nods. "How?" I asked confused. He touches my cheek and my mom holds my hand and my brother sits in my lap. "We're spirits." My dad says. "We will always be with you, love." My mom continues. "Go out there and tough it out anytime you miss us just call and we will be there for you." She says.

"I love you," I tell them before they faded away. I stood up and dusted of my black satin dress. All I have to do is call them, I said to myself and with that I toughed it out and made the best of my new life.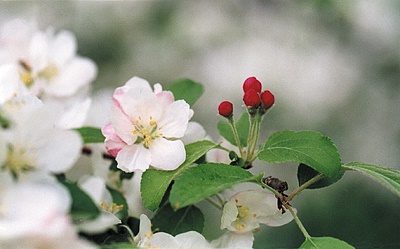 © April P., Newark, DE